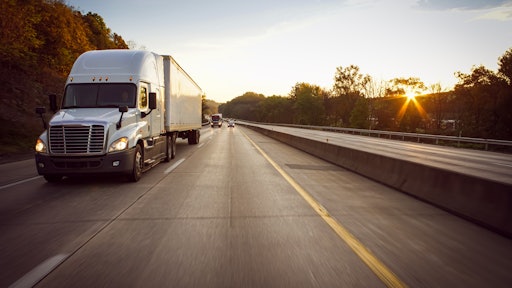 5m3photos - stock.adobe.com
Data from AFS Logistics and TD Cowen projects the first quarter-over-quarter (QoQ) increase for truckload rates since Q1 2022, while competition among carriers for falling volumes is expected to drive continued declines in LTL and parcel rates in Q3.
"The COVID era made unanticipated shocks a near constant for logistics operations, and further risks lie ahead. The parcel market is reckoning with just how costly and chaotic a strike could be, while the potential bankruptcy of the nation's third-largest LTL carrier could throw a supply-side shock in an otherwise soft market," says Tom Nightingale, CEO of AFS. "But as the risk of turmoil generates headlines, market conditions still favor shippers, even with truckload finally sending signals of price resilience."
From BusinessWire:
While truckload linehaul cost per shipment continued its deterioration in Q2 2023, the pace of its decrease slowed, and in Q3 2023, the index projects the first QoQ increase since Q1 2022, with the truckload index going up from 6.4% in Q2 2023 to 6.6% in Q3 2023.
The LTL index shows the effect of falling fuel prices and softening demand, showing the first negative YoY trend since 2020, declining to 53.2% in Q2 2023, down from 58.4% the year prior and 57.3% the previous quarter. Lower fuel surcharges resulted in an actual fuel cost per shipment that was down 14% compared to Q1 2023. Alongside dampened fuel charges, the average length of haul per shipment declined 1.3% QoQ, exerting additional downward pressure on the cost per shipment. Looking ahead to Q3, the LTL rate per pound index projects a decline of 1.3% QoQ and 7.0% YoY to 51.3% above the January 2018 baseline. While lower than the index's Q4 2022 peak of 64.4%, LTL, like truckload, remains significantly higher than pre-pandemic levels.
Express parcel rates dropped 1.9% QoQ in Q2 2023, as the price of jet fuel fell significantly, and with it, corresponding fuel surcharges. The express fuel surcharge dropped 20.7% QoQ, representing a YoY decline of 35.7% from the record highs of Q2 2022. The average discount for base transportation charges also increased by 0.5%, and average accessorial charges dropped by 3.5%, joining with fuel to reduce the cost per package.
Looking ahead to Q3 2023, the express parcel index is expected to decrease to 0.9% above the January 2018 baseline, down from 2.5% in Q2. In part, this is attributed to the seasonal variation in billed weight.
For ground parcel, the net effective fuel surcharge paid by shippers decreased 8.7% QoQ in Q2 2023, which drove down rates 2.2% QoQ. The average discount increased by 1.2% for base transportation and average accessorial charges decreased by 0.7%. Given continued demand shortfalls, the trend of more aggressive discounting and looser pricing discipline on the part of carriers is expected to continue in Q3 2023, with the much-anticipated deceleration of ground parcel rates finally arriving. The index is projected to fall to 26.3% above the January 2018 baseline in Q3 2023, down 1.3% QoQ and marking the first YoY decline in ground parcel since 2019.
"Just as the truckload market exhibited sensitivity to declining macroeconomic forces over the course of the last year, the index is now projected to increase slightly on the heels of stronger-than-expected U.S. GDP growth, receding inflation and a reprieve, at least temporarily, from interest rate hikes," says Andy Dyer, president of transportation management for AFS. "Although speculation points to additional interest rate hikes later this year with inflation still double the 2% target, the truckload index is unlikely to fall any lower than Q2 2023 levels, indicating that the market may have finally found its floor."