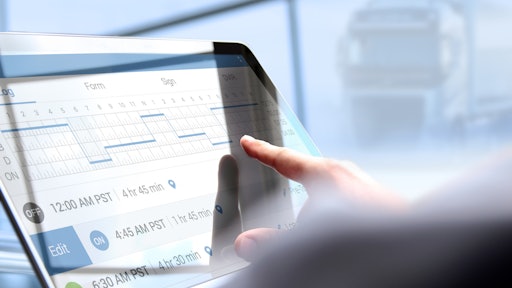 Saklakova - Adobe Stock - Driver ELD
There are many reasons a shipper might reject a freight invoice from a carrier. Wrong billing address or PO number, miscalculated number of parcels/pallets or weight, just to name a few. In fact, assessorial fees that aren't in the contract are one of the most common reasons shippers reject invoices and either short pay or delay full payment to carriers.
Rejected invoices are an increasing problem in the supply chain world that has the potential to disrupt carrier performance and further constrain capacity. While it's difficult to pinpoint the exact volume of rejected invoices, industry analysts believe the number lies anywhere from 15-66%. In fact, one in every four invoices gets rejected and has to remediated. That staggering 25% is well above recommended maximum of a 4% rejection rate—with 2% being the ideal target.
Freight payment and rejected invoices might not sound the alarm bells as shippers have so many others forces to contend with today -- complex regulations, lingering capacity shortages, pandemic recovery and increased consumer expectations. But, not paying attention to freight payment chips away at a shipper's bottom line and creates friction with carriers that are desperately needed these days more than ever.
Invoice rejection rate high? It could be the shipper's fault.
It's true, many carrier invoices have errors and shippers should hold carriers accountable for failure to meet invoice qualification standards. But, shippers make it harder for carriers to meet those standards when they add more requirements, such as additional documentation, that aren't typically part of carriers' normal processes. Additional validations—tied to shipper-specific rules—are why many invoice rejections occur and they take time and effort to resolve. Creating new business rules also shifts accounting, data collection and end-customer service requirements to the carrier, which they aren't equipped to resolve.
Rejecting an invoice outright and withholding full payment is rare, accounting for approximately 1-2% of rejected invoices. The reason for outright rejection is usually the lack of supporting documentation required by the shipper. More often, accessorial fees that aren't stipulated in the contract with the carrier or an incorrect discount applied will lead to partial payment to the carrier. The key to reducing rejected invoices usually lies with the bill of lading. If additional qualification requirements aren't provided by the shipper and included on the bill of lading, the carrier is unlikely to know they have to meet those qualifications to be paid.
The time to pay particularly close attention to invoices is when a shipper contracts with a new carrier or renegotiates shipping rates. There can be a lapse in time when the paperwork is signed and the carrier enters the information into their systems—leading to a rejected invoice.
To insource or outsource freight audit and payment?
As the shipping industry becomes more complex, so too does freight payment. It requires concrete processes, extensive data capture, rigorous audit and total compliance to the shipper's business rules. Tasking a shipper's in-house team to identify and resolve invoice discrepancies can distract for other more strategic and valuable tasks and may cost more than any savings found.
Increasingly, shippers are turning to third party freight audit and payment providers to manage every step of the process. Third parties can collaboratively set pricing tolerance with a shipper and work to uncover duplicate charges, verify rate accuracy, resolve claims, resolve un-contracted carriers, settle payments and assign general ledger costs. Some third-party providers also enlist technology tools to distill shipping and billing data to delivery strategic insights that help shippers make more profitable decisions and optimize their supply chain.
Whether insourcing or outsourcing, shippers should follow these five rules to reduce invoice rejection rates and prevent supply chain interruptions.
1. Make sure the bill of lading has all the correct information required for the carrier to create an accurate invoice.
2. When rate changes occur, make sure the carrier has the correct effective date of change and rate base.
3. Perform freight audits to ensure invoices don't include over-charges such as assessorial fees that aren't in the carrier contract.
4. Leverage automation tools such as a transportation management system (TMS) to create a bill of lading.
5. Explore technology tools to have complete visibility as the shipment moves with any accompanying documents necessary for payment.
Be proactive, not reactive
As demand for shipping continues to climb and ongoing capacity limitations plague the industry, shippers and carriers need greater collaboration to design processes, meet data requirements and resolve exceptions. Improved processes with automation creates the ability to have client and carrier business rules automated and eliminate manual intervention, and potential errors with fool proofing of the process. Otherwise, unnecessary tensions will arise between shippers and carriers that weaken the relationship and disrupt the supply chain.
Rejected invoices are inevitable on some level, but they don't have to be onerous. The best tactic is to take a proactive approach to resolving rejections. Communicate correct information to carriers and convey why certain information needs to be included on invoices to speed payment. Everyone involved in shipments—inside and outside of an organization—should follow the same processes and protocols to help ensure rejected invoices are kept to a minimum and shipper/carrier relationships remain intact.