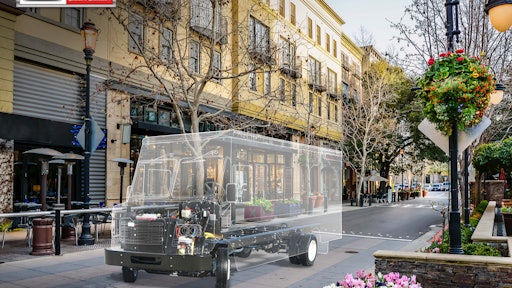 Freightliner Custom Chassis Corporation (FCCC) is partnering with a leading innovator in heavy-duty electric transportation to develop an enhanced, production-ready version of its all-electric MT50e truck chassis for 2020.
The MT50e will feature an efficient and powerful battery system from Proterra, a California-based manufacturer of high-performance systems for heavy-duty platforms. The Proterra system powering the MT50e will feature 226 kWh of energy capacity and an all-electric, zero-emission drive system.
Built on FCCC's legendary MT platform, the all-electric MT50e will feature a gross vehicle weight rating (GVWR) of 16,000 to 23,000 lbs., with no reduction in cargo volume capacity. The vehicle is designed to enable more than 125 miles of driving range and can fully charge in about three hours with DC fast charging.
"The new MT50e blends the efficiency and performance of an electric vehicle with the undisputed strength and ruggedness that's made FCCC the most reliable chassis on the market," said Jeff Sather, president and CEO of FCCC. "The MT50e comes with industry-leading, 24/7 support and builds on our heritage of technological innovation to propel both us and our customers into an era of zero emissions for last-mile delivery vehicles."
The MT50e is designed to combine the reliability and durability of FCCC's products with the efficiency and performance of a factory-installed, fully integrated electric power system. Launched as a prototype at the 2019 Work Truck Show, the MT50e is the first of several planned commercial electric vehicles from FCCC for use in a variety of applications.
"Fleet operators are looking to electrify delivery trucks today and there is growing industry interest in a high-performance electric chassis with an energy-dense battery system," said Proterra CEO Ryan Popple. "The MT50e offers fleet operators a leading vehicle platform they're familiar with, combined with proven electric vehicle technology and expertise from Proterra."
In addition to the electric vehicle components, Proterra also offers high power charging systems that are purpose-built for commercial applications and use standardized technology for interoperability. Proterra charging systems utilize the universal J1772-CCS Type 1 charging standard, enabling operators to utilize Proterra charging systems for a range of battery-electric powered vehicles.