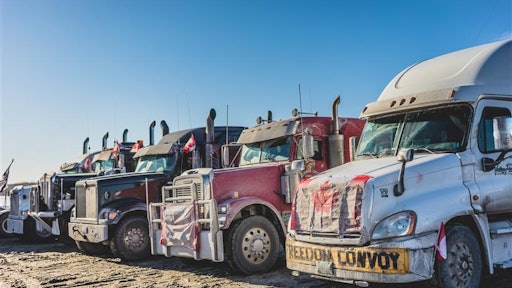 aetb/stock.adobe.com
project44 takes supply chain visibility to the public with an online platform that shows real-time information regarding the global supply chain crisis. After a convoy of truckers in Canada blocked major routes in protest of COVID-19-restrictions created serious supply chain concerns, project44 launched the website for anyone to have access to disruption data. For instance, at time of press, the platform alerted users to an increase of 52% in dwell time at the Port of Odessa in Ukraine due to the Russian border crisis.
Per PR Newswire:
Companies dependent on cross-border deliveries, such as those in the auto industry, are already reeling from the impact of the trucker blockades at major cross-border points. In the last 24 hours, the tracker has shown improving trucking conditions in Canada, as law enforcement re-opens travel routes. As the impact of the blockades ripple through the supply chain,

project44's

Supply Chain Crisis Tracker will provide an overview of the impact on truck transportation. The tracker will provide updates on other geopolitical events impacting trucking, such as the emerging situation in Ukraine.

project44's

advanced visibility platform tracks more than one billion shipments annually transported by more 140,000 carriers across all modes in 170 plus countries. More than 1,000 customers use

project44

to monitor shipment status in real-time, receive predictive time of shipment arrivals, and gain data insights on carrier and route performance.

project44

currently shares real-time information on transportation trends on its Supply Chain Insights page. Reports on the impact of disruptions can be found on the Supply Chain Crisis Tracker.