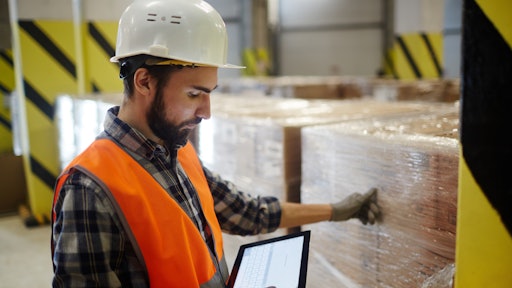 pressmaster/stock.adobe.com
Supply chains are the backbone of many businesses and have been significantly impacted by the ongoing pandemic. As these disruptions persist, companies worldwide are determining ways to navigate these industry challenges.
Enabling a highly productive and resilient workforce is essential to mitigate and overcome these ongoing disruptions. This means prioritizing and investing in tools, training, and worker-friendly software applications that provide collaboration and in-the-moment support that helps workers perform at their highest potential.
Adopting these strategies will be essential for companies to keep pace with economic demands in an increasingly competitive landscape while taking steps to establish a workforce for the future.
Invest in connected worker applications.
As the industry continues to face the economic impacts of the pandemic, many companies shifted spending towards software applications that support increased agility and better risk management, making them more resilient in the wake of tough times.
Investing in connected worker applications is a smart move to build an engaged and resilient workforce. At the simplest level, a connected workforce has the digital tools to do their job better and to communicate and resolve issues in a timely manner.
When employers accelerate the implementation of software applications designed for the workforce, employees can be more effective, efficient, and communicative, and therefore address problems as they arise or even before they occur. Leading indicators are collected and allow for real-time and continuous improvements, unlike data trapped on paper and electronic forms that are not analyzed in real-time or spread across multiple systems. Taking the time to invest in these solutions will yield greater safety, significant productivity increases, and overall business growth.
Prioritize data-driven business tools
Business intelligence, insights, and overall improved organization and use of data will remain top priorities in 2022. Supply chain challenges are ongoing and multi-layered, and a lack of supply chain integration could stall smart factory initiatives for three in five manufacturers by 2025. Most industry professionals recognize the need for support to capitalize on the use of data, acknowledging where their organizations are falling short.
In a 2022 Deloitte analysis, 53% of surveyed organizations plan to enhance data integration for supply-and-demand visibility and planning. More organizations are advancing progress and seeing positive outcomes due to more connected, reliable, efficient, and predictive processes across the supply chain.
Address the generational skills gap
People are the key to a resilient supply chain. However, companies are experiencing a critical labor shortage throughout the supply chain pipeline amid the Great Resignation. This is especially true in addressing the driver shortage.
Drivers are a vital link to the supply chain, and the general lack of drivers is largely impacting the industry. According to the American Trucking Associations, the industry is short 80,000 drivers, and this shortage could double by 2030 as more retire.
There are many ways that companies can address the labor and skills gap, such as through better pay, benefits, and hiring talent with foundational skills in data analytics. But it's also crucial to incorporate practices that ensure workers' voices are heard and the companies they work for care about them. Adopting Connected Worker applications gives workers a voice and helps ensure that feedback is delivered and acted upon in real-time, rather than delayed for later or never addressed at all. And, by providing a solution that your workers will actually want to use on the job, employees will feel more valued and be more engaged.
Go mobile
A thriving workforce is one that recognizes and leverages the power of its people, their creativity, and potential. More than 96% of younger workers already have smartphones, so leveraging mobile connected worker apps will be vital in engaging the upcoming generation and tapping into their productivity potential. Digital technology and mobile applications are expected by younger workers vs. paper and low-tech solutions. Organizations that leverage mobile apps for routine work processes will benefit from fast roll-outs and expedited user adoption.
The right mobile apps are vital to the supply chain and increase engagement, encouraging the most knowledgeable workers to be leaders in data collection and sharing best practices. Companies that use apps to unlock data and discover what's happening in real-time can also identify patterns and trends and act quickly on the information, saving time and money.
According to IDC, 70% of all organizations will accelerate the use of digital technologies by 2022, and connected worker applications will play an important role in transforming existing business processes to drive worker productivity and business resiliency.
Focus on the workforce
Industry and market trends will continue to catalyze organizational changes in 2022, which means focusing on the workforce and individual worker needs are essential for businesses. This evolving process requires a commitment from a company's leadership to invest the time and effort in identifying and implementing the right digital technologies for their organization.
The businesses that lean into enabling a more connected workforce will not only increase productivity, bridge communication gaps, and improve workplace operations, but also be more resilient in the face of future challenges.