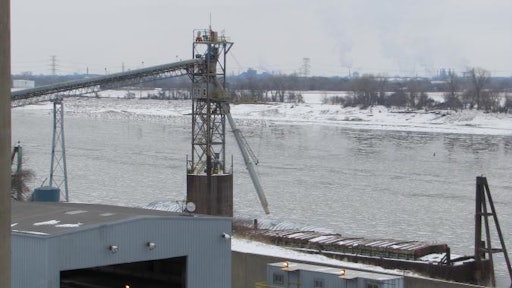 Data from the U.S. Army Corps of Engineers (USACE) has revealed that the St. Louis Regional Ports continues to hold the top ranking as the most efficient inland port district in the nation in terms of tons moved per river mile during 2017, the most recent year the final numbers were available. 
The port's efficiencies translate into a higher share of all freight tonnage along the section of the Mississippi River from Minneapolis, to the Ohio River near Cairo, Ill. being captured by the St. Louis region's ports and river terminals. According to the USACE, the 70-mile St. Louis regional port system represents only 8 percent of this 855-mile section of the river, yet carried 39 percent of the 2016 freight.
"These latest numbers go beyond reinforcing a key stretch of our port system as the Ag Coast of America; they underscore the St. Louis region's critical role in the nation's freight network," says Mary Lamie, Executive Director of the St. Louis Regional Freightway. "Continuing investments in the St. Louis region's ports and river terminals have created a highly competitive shipper and carrier market featuring greater efficiencies and lower costs. We have every reason to believe the positive trends will continue, given the excess capacity at river terminals and high concentrations of barges; exceptional intermodal connectivity; and the region's unrivaled location in America's heartland, providing the northernmost ice-free and lock-free access on the Mississippi River."
The region is among the top five of all U.S. ports for job growth in industrial employment. That growth is being driven in part by the ongoing investment in the region's ports and river terminals. Both public and private investment is underway or starting soon with all four of the region's public ports advancing projects that will improve the bottom line for shippers and carriers. 
"There is a tremendous amount of infrastructure and support in the St. Louis region," says Jim Meyer, President of Italgrani. "The Ag Coast of America nickname is very much apropos. We're very aware of others – Cargill, Bunge and more, moving significant quantities. The amount of commerce being done is incredible."
For the St. Louis region to continue to maintain its share of the current freight traffic and capture an even greater portion going forward, the investments by the ports and private industry will need to be augmented by additional infrastructure spending. U.S. Department of Agriculture reports suggest that, without improvements in U.S. infrastructure from the farm to ports, global agricultural market shares will decline dramatically. 
"Investment in infrastructure, including improving at-grade rail crossings and increasing efficiency of freight rail interconnectivity with the region's Class I railroads, is key to supporting the barge industry and critical for maintaining global competitiveness," Lamie says. "Fortunately, public and private funding is already advancing some of the region's highest priority projects, and the St. Louis Regional Freightway is committed to working with its many partners to advocate for additional funding for others unanimously recognized as vital to modernize the region's freight infrastructure."