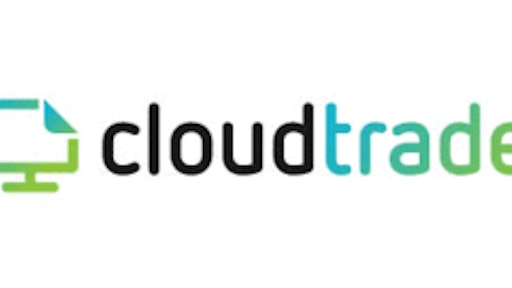 CloudTrade's has launched a new platform that enables companies to overcome inefficient methods of freight invoice processing to transact digitally with their trading partners, regardless of their size or technical maturity.
Built on the company's Gramatica technology, the company says CloudTrade Logistics offers 100 percent accuracy for most carriers.
"CloudTrade's patent-protected software uses unique rules-based technology, with backward tracking search, to interpret, validate, and extrapolate semantic meaning from complex documents, of any type," says Roger Hatfield, vice president of CloudTrade Logistics. Whether it's freight invoices, sales and purchase orders or advanced shipping notices, CloudTrade processes them automatically. Any of these documents can be used to integrate key supply chain data for improved landed costs analysis and reporting analytics."
The solution is the first of its kind to enable freight payment providers, 3PLs and business process outsourcing partners to increase efficiencies, slash operational costs and increase throughput by eliminating the processing of PDF and paper invoices.
"If you are a supplier or sender, we simply leverage technology that you're already using—such as email—at no cost. For a buyer or receiver, freight invoices are delivered via your preferred approach—email, SFTP, HTTPS, FTP—and are available for download from our on-line portal. Once CloudTrade's cloud-based data hub receives the PDF invoice, we extract all the necessary data elements and deliver them into your transportation management (TMS), payment and back office systems," Hatfield continues.
CloudTrade Logistics will deliver benefits to both sides of the trading relationship, from cost reduction to increased control. Improving the ability to pay on time, increasing visibility and transparency within your business. Suppliers can produce their freight invoices in an easy and non-disruptive way. Removing the need for changes to their applications, infrastructure or internal processes. The company also doesn't require any additional technical resources.
"Due to the nature of machine generated PDFs, a format that almost all supplier systems can produce, freight invoices in the PDF format can easily be mapped into an XML or EDI file, ensuring accuracy of the data. With this approach and CloudTrade's patented technology, a carrier no longer has any barriers to sending digital data, which means the onboarding process is very quick and efficient," says Cecil Bryan, president of the Logistics Alliance Network. "With CloudTrade logistics, the invoice data can easily be delivered into your freight payment or back office system for processing in a file format that meets your needs, quickly and efficiently. Enabling users to send and receive tax and VAT compliant invoices, that are processed at 100 percent accuracy, at a line level detail and at a fraction of the cost."