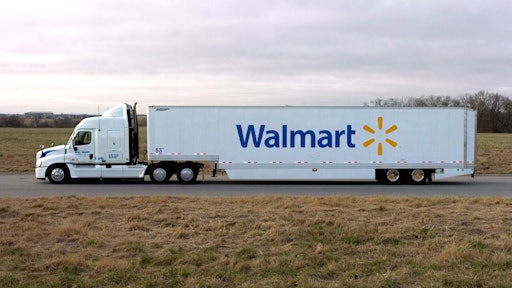 The driver shortage within the trucking industry continues, despite many companies seeking out talent. While many are struggling to recruit and retain talent, Walmart hired 1,400 new drivers in 2018. Yahoo reports that the retailer added 696 new drivers in net fleet growth since August as well.
The recruitment is happening while more aging drivers are retiring and high levels of turnover. However, Walmart responded to the shortage by hiring drivers by offering $1,500 referral bonuses, social media outreach for the younger generation and shortening the application time from 73 days to just 31 days. However, drivers still must have at least 30 months of experience and meet other stringent requirements. Yahoo reports that 1,000 drivers remain in the hiring pipeline, including 200 who will attending hiring events this month and 400 referrals the company is evaluating.
Walmart continuously relies on its drivers to be the eyes and ears for what's happening in stores. As the economy continues to strengthen, there will be an increased need for drivers. Currently, Walmart holds an industry low turnover average from 7 to 12 percent.
While a drivers can make $86,000 a year driving for the retailer, it also offers safe driving bonuses, benefits and doesn't make drivers load or unload freight, Yahoo reports. Drivers can also accrue up to 21 paid days of vacation. However one of the most significant changes in Walmart's recruitment efforts is the change in hiring event format.
Previously, drivers would fill out an application, meet the minimum qualifications and come in for an informal interview. At past hiring events, prospects would demonstrate a pre-trip, backing exercise and road test. Now, Walmart is assessing drivers over three days at these hiring events. The first day drivers demonstrate their skill and on the second day Walmart demonstrates the protocol and expectations for its fleet, enabling drivers to apply the knowledge to the next day's driving tests.
WMT), the world's largest retailer, ramped up its hiring of truck drivers amid a driver shortage and is still in search of hundreds more." data-reactid="15">