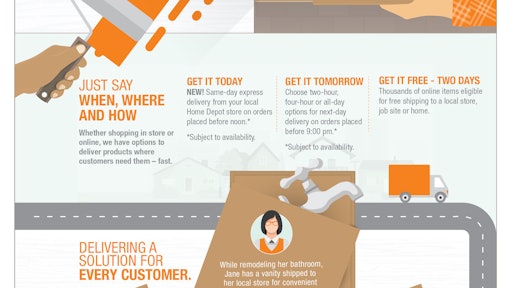 The Home Depot has rolled out express same-day and next-day local delivery for more than 20,000 of its most popular items to 35 major metros across the United States. The new service is part of the company's five-year plan to expand its delivery offerings for DIY and Pro customers.
"This is just the beginning of our expansion of improved delivery options, but it's a significant milestone in the way we're serving customers," says Mark Holifield, executive vice president of supply chain and product development.
The company is partnering with car and van providers like Roadie and Deliv to offer the new delivery options for smaller items, while continuing to expand its supply chain network for faster shipments of large bulk deliveries. The ongoing investment calls for additional direct fulfillment centers and more than 100 new distribution sites to further extend delivery speed and reach.
Qualifying products for the new express delivery option include everything from power tools to décor to garden supplies, with delivery options starting at $8.99.