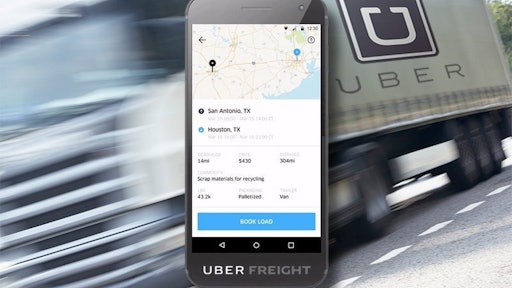 Uber is launching a rewards program for their trucking app Uber Freight. Currently, the app allows truckers to easily book loads. The rewards program, Uber Freight Plus, offers truckers discounts and opportunities depending on how much they drive with the service.
If drivers haul one load per month with Uber Freight, they'll be eligible for an Uber Freight "fuel card." Truckers will be able to use the card to save 20 center per gallon off retail pricing of gas at TA/Petro truck stops. Members will also be able to use the card to save up to 30 percent on Goodyear tires.
When an Uber Freight driver hauls 10 loads, they'll be eligible for up to $16,000 off new truck purchases from Navistar or up to a $4,000 rebate on used trucks from the company's internation brand.
Uber Freight Plus is the latest push to tempt existing drivers to try out the service. In the middle of the driver shortage, the app is also encouraging new users to sign up.
Uber has been rolling out new features to the Freight app since its launch a year ago. The app has an algorithm that suggest jobs to drivers based on location and preferences. There's also a feature where drivers can post where and when their truck will be available, allowing companies to easily match with them.
The company has not disclosed how many people use Uber Freight. In it's first year of existence, however, the service is benefitting from being able to leverage the company's resources.
To read the full original article, please click here.