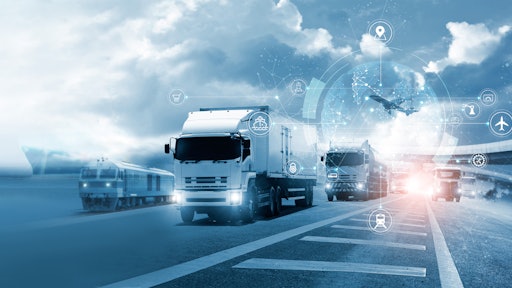 ipopba/stock.adobe.com
As 2022 ended with container imports returning to 2019 levels, ocean carrier rates declining precipitously and capacity across most modes opening up, the thought might be that 2023 won't be as demanding a year for transportation organizations. Not so fast! Some of the challenges of the pandemic era aren't going away. Higher costs are having all aspects of the business be scrutinized and customers are no longer willing to tolerate depressed service levels. The pressure will be on transportation organizations to deliver high levels of performance at lower costs and be more resilient— even in the face of continued resource shortages. In addition, 2023 rolled in with a new set of requirements to have companies become better stewards of the environment. Here are the six areas where transportation organizations will spend their time in 2023.
1. Squeezing the lemon one more time
Despite the significant decrease in transportation costs— especially ocean —shippers will be very focused on taking out more transportation costs due to the continuing impact of inflation and elevated product and commodity costs. Given the softening demand for all modes of transportation, shippers and logistics service providers (LSP) will have the opportunity to take advantage of excess market capacity that did not exist for the past several years. Carriers and LSPs can expect more competitive bidding from shippers to drive down rates. They will also move to less expensive transportation modes where there is little to no impact on business performance. From strategic sourcing and tracking automation to rate shopping and alternate mode selection, shippers and LSPs will look to reset their strategies and supporting technologies to take advantage of rapidly evolving transportation market conditions.
2. The service differentiator
Transportation service levels were severely impacted the past several years, damaging shippers' relations with their customers. While shippers will ask carriers and LSPs to "sharpen their pencils" on costs, they will also focus heavily on service performance, measure it much more precisely and often and even pay a slight premium for it. Shippers will also focus on carrier and LSP digital service capabilities as their customers demand greater shipment visibility and the ability to control shipments in transit. Real-time shipment visibility and ETAs will become a base expectation in 2023 across all modes of transportation.
3. Improving agility and diversity
As companies work to make their supply chains more resilient, transportation organizations will be tasked with becoming more agile and increasing transportation diversity to minimize the impact of disruptions or take advantage of shifting transportation conditions. For example, after the ILWU labor contract is settled, quickly returning to West Coast Ports could help reduce supply chain lead times by as much as 10 days and reduce transit costs. It will also be important to work with carriers across modes to gain access to capacity outside of core transportation lanes to reduce the risk of disruptions associated with events such as COVID.
4. Labor woes
The pandemic masked a demographic and macroeconomic labor problem. Despite what appears to be a softening of consumer demand, there still are not enough people to fill the open jobs and the number of workers entering the workforce is declining while the number of "boomers" is accelerating. For all of 2022, the U.S. has been at or near record low unemployment rates. For the logistics industry, the problem is that the competition for workers is not just between competing companies— it's with every company in every industry. Retention and peak season hiring reduction strategies will be critical to best utilize the drivers that companies already have. Reducing driver stress through more feasible delivery routes, lower wait times and technology to help them through the disruptions that occur as a result of daily challenges will be critical to keeping drivers. For peak seasons, the available driver pool will be tight, so improving driver productivity will be key to meeting elevated customer demand.
5. Sustainability becomes an expectation and opportunity
Consumer and regulatory pressure will put a spotlight on sustainability in transportation. Customers will want to know which delivery options are the most sustainable and will want CO2 footprint tracked. With heightened consumer awareness, providing sustainable delivery options will not only be an important strategy for improving the customer experience but also a financial opportunity to reduce transportation costs as many environmentally friendly delivery options are much more efficient. Environmental, Social and Governance (ESG) reporting requirements will have companies look to measure CO2 footprint across the supply chain and all modes of transportation and, depending upon the country, this information will be important to take advantage of eco-based tax incentives.
6.
Transportation

tech gut check

Transportation organizations will evaluate whether their transportation management solutions were an enabler or inhibitor during the craziness of the last several years. Were they agile enough to help find solutions to the larger transportation challenges that most companies faced? Could they be quickly reconfigured to address the constantly changing transportation situation? Were they able to use real-time transportation visibility data to make better decisions and proactively keep the organization informed of potential disruptions? If the answers weren't yes, then 2023 will be the time when transportation organizations replace their transportation management solutions to support more resilient and reliable operations.

Transportation management in 2023 will be a battle to get cost and service under control while advancing organizational capabilities to be more resilient, address labor challenges and make a positive impact on the environment. For many transportation organizations, this will mean rethinking their strategies and tactics and determining if their technology solutions will support the new vision of the organization. It will also mean that, to be a more impactful part of the enterprise, an "outward" view will be required to leverage transportation management capabilities across the organization and beyond.