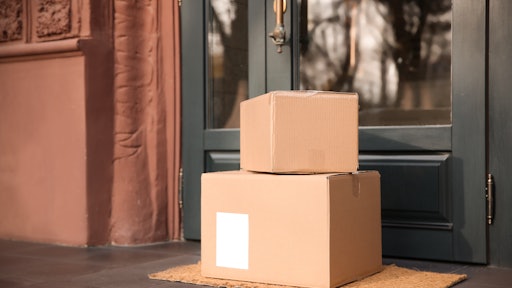 New Africa - stock.adobe.com
The definition of "fast shipping" has dramatically changed in recent years.
For many consumers, fast shipping means 2-day and even same-day delivery. This has changed the way consumers shop because it blends the ease of online shopping with the immediacy of physical stores. Some online marketplaces have jumped on the trend by partnering with on-demand delivery providers.
In the B2B space, customers have long valued safe, reliable and speedy delivery of their goods, however, same-day freight delivery has been perceived as too expensive to gain wide traction. Like the sound barrier, there has been an imperceptible but impermeable barrier preventing shippers from utilizing same-day delivery services as often as the need arises.
But business buyers are consumers, too. They have become accustomed to receiving their shipments in two days or less and increasingly expect more digital, consumer-like interactions with suppliers. That applies to receiving goods when they need them, with as little friction as possible, no matter the logistical complexity. The need for speedy, flexible delivery has transcended the consumer world.
The good news is that same-day delivery services are less expensive, easier to book and more efficient than ever. In other words, the barrier has been breached. In cases where the shipments are less than a truckload, but require delivery faster than traditional LTL, small vehicle solutions have emerged as an affordable solution. Utilizing vehicles ranging from sprinter and cargo vans to box and straight trucks, small vehicle shipping provides dedicated, same-day delivery services for loads up to 14 pallets. For businesses, same-day delivery can be a differentiator in driving higher sales and increasing customer satisfaction. In particular, same-day delivery can elevate three key areas.
B2B e-commerce
The COVID-19 pandemic dramatically accelerated the move to e-commerce between corporate buyers and sellers, and the change is here to stay. Nearly two-thirds (65%) of B2B companies across industry sectors offered e-commerce capabilities at the end of 2021, up from 53% earlier in the year, according to a McKinsey & Company survey.
Manufacturers, in particular, are benefitting from building their e-commerce capabilities through their own website and apps, as well as B2B online marketplaces. Last year manufacturers grew B2B e-commerce sales faster than any other channel, up 18.4% to $543.25 billion, according to Digital Commerce 360.
Third-party online marketplaces are one of the fastest-growing categories within digital commerce because they allow buyers to research their options and connect with multiple brands and products at once. Nearly 60% of B2B buyers say they are open to purchasing on marketplaces, roughly the same percentage as those who buy from supplier-branded websites (64%), according to the McKinsey survey. While marketplaces open up sellers to comparison, they also allow them to reach a large, captivated audience and attract new buyers. Digital Commerce 360 estimates that U.S. sales in B2B marketplaces will hit a record $130 billion in sales this year, five times higher than in 2020.
With the growth of B2B e-commerce comes higher expectations for shorter delivery times. Companies that can fulfill orders faster will gain a competitive advantage because customers want convenience. That simple idea has been proven over and over. And based on the experience in the B2C space, same-day delivery leads to increased conversion rates and more volume.
Inventory management
Today's supply chain management is all about risk mitigation. The COVID-19 pandemic showed many companies that their "just-in-time" supply chains weren't strong enough to handle a major shock. For decades, companies prioritized costs above all else when selecting suppliers, building factories and deciding how much inventory to keep on hand. The drive for efficiency also led to moving production to low-wage locations and consolidating orders to maximize economies of scale.
More than two years of pandemic-induced disruption has companies revamping their supply chains to make them more resilient. Some of the changes include increasing inventory of critical products, dual sourcing of raw materials, and increasing inventory along the supply chain.
Wholesale inventories in September were up 24.5% from the same month a year ago, according to the U.S. Census Bureau. Retail inventories were up 22.2% in September, including at some of the country's largest retailers.
Rising inventories, however, create their own set of challenges. They pull assets from other parts of the business and have associated storage costs. More stock on hand also puts a premium on inventory management at internal facilities, distribution centers, rented warehouses and fulfillment centers operated by third-party logistics (3PL) providers. Having enough inventory at the location closest to the customer is the best-case scenario. This ensures orders are shipped through the fastest, most affordable route.
Retailers need to quickly move inventory when they sell via multiple stores and channels. If one of the stores lacks a few items while they're selling well, retailers have to transfer items from other nearby stores or a warehouse to restock quickly. Poorly planned and untimely inventory transfers can lead to fulfillment delays and ultimately lost sales.
Aftermarket
Businesses are transforming their operations to create positive experiences for their customers. But in the rush to optimize the customer journey, aftermarket services shouldn't become an afterthought.
Deloitte found that for some manufacturers, aftermarket already accounts for the entire profit generated by the company. In many cases, new equipment is no longer sold to generate profits for the firm but to fuel the future aftersales business on the installed base.
One of the biggest challenges in aftermarket services is the supply chain for spare parts. It's a complex network that often involves numerous entities, including the original equipment manufacturer, repair vendors, designated dealers, authorized service representatives and 3PL warehousing partners. Stocking the right amount of spare parts and delivering them to the customer quickly frustrates even the most successful companies.
Breakdowns occur unexpectedly, but customers expect replacement parts to be delivered as quickly as possible to minimize downtime. Shipping delays can easily squander hard-earned customer loyalty.
B2B companies are pulling out all the stops to offer compelling omnichannel experiences. A big part of the experience is delivering orders more efficiently to meet growing expectations for same-day delivery services.