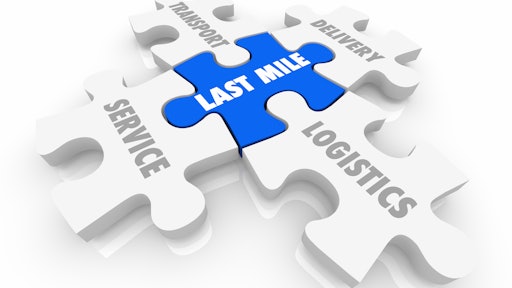 iQoncept - stock.adobe.com
Over the last few years, there has been a steady shift to e-commerce leading to an increase in package deliveries. In fact, U.S. parcel volume grew to a record high of 21.5 billion in 2021, and carrier revenues exceeded all previous years' figures totaling $188 billion. With the influx of e-commerce and deliveries, both consumers' and businesses' expectations are also significantly increasing.
Shoppers expect to get their purchases faster, more flexibly, and at low or no delivery cost. At the same time, logistics companies are struggling to keep up with the increase in delivery volumes, evolving consumer needs and speedy services. This pressure creates hard work for the logistics industry and is exacerbated in the last mile of delivery.
The last mile is the most inefficient leg of the logistics journey, but accounts for 53% of the overall costs. How can logistic companies conquer the last mile and overcome these challenges?
The key is mobile data capture, which helps warehouses overcome the acute and growing pressure to deliver better service at an ever-lower cost.
Provide greater visibility and control at every step of the journey
In a recent survey, Anyline found that over the past two years, 68% of respondents experienced a package delay. In the midst of these delays, customers want to be informed with up-to-date information on where their delivery is located. In response, logistics companies must begin thinking of all aspects of delivery from the consumer's point of view, giving them visibility and control on the factors of their delivery that matter most.
Customers don't want to have to search or guess when their package will be delivered. As well, they want to be in control of their packages – for example, when it gets delivered and where their package is located in real time and the expected date of delivery. In order to make this happen, logistics providers must focus on improving data quality and traceability.
With mobile data capture, as well as technology such as GPS tracking, logistics companies and warehouses can provide information on packages throughout the entire delivery process. These technologies enable easy barcode scanning to give consumers a continuously updated status check on the whereabouts of their package, providing consumers the visibility they expect.
Increase efficiency in the warehouse
Mobile data capture is the key to a fast and efficient way for logistics companies to capture needed data while controlling costs and delivering better service—especially in the last mile. This includes automating routine tasks and processes at every step in the warehouse with AI. With artificial intelligence (AI)-enabled mobile data capture, they can improve the speed of loading, unloading, finding, delivering and end-to-end tracking.
How can logistics companies and retailers alike make AI technologies work for the last mile? Warehouses and carriers should pair data such as location, traffic and delivery loads with AI and machine learning, helping delivery carriers to increase in efficiency while on the road. With this technology, logistics companies can add dynamic routing and delivery scheduling to the last mile process. Over time, machine learning can also be used to predict demand and labor requirements.
AI and machine learning technologies are cost-effective and easy to implement, optimizing the last-mile delivery process to improve customer satisfaction and enabling logistics companies to make more successful deliveries.
By cutting down on time and money spent on the routine tasks and processes in the warehouse, logistics companies can focus on delivering a better experience to businesses and individuals.
Lower expenses and become cost-effective
In order for these technologies to work, logistics companies need devices in the hands of every warehouse worker and carrier to increase efficiency. Every operation will be different, but if cost is the key problem standing in the way of digitization, then mobile data capture can be the solution. With mobile data capture, warehouse employees can use their own smartphone, meaning no expensive dedicated devices to purchase or maintain and no additional training needed.
As well, missed deliveries that require different pick-up locations can add costs for logistics companies and are often inconvenient for the consumer. With added mobile technology, companies can scale up operations without adding to the overhead cost. Having one device that scans barcodes, IDs and license plates makes the last mile more efficient, helping plan carrier routes more precisely.
Exceed customer expectations in the last mile
While logistics companies can't control the ongoing supply chain issues or rising inflationary costs, they do have the ability to control the last mile. Many companies have already begun incorporating more technology to improve logistics efforts, but these changes are thwarted due to the lack of all sectors in the industry coming together to speed up the logistics process.
Compared to a complete infrastructure change, adding mobile data capture enabled by AI and machine learning to a delivery workforce app is a more efficient way to cut costs and improve logistics activities with no reduction in efficiency.
As well, the ability to combine digital documentation and GPS information with multiple data points collected through optical character recognition (OCR) and barcode scanning on any device is providing that extra level of transparency and accountability that drives customer satisfaction and improves the bottom line.