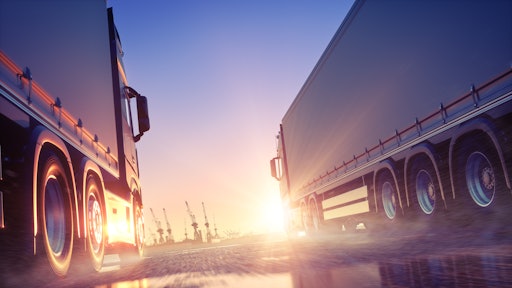 assetseller/stock/adobe.com
Trucking commercial fleets play a vital role in the nation's supply chain. Whether the fleet is moving goods regionally or nationwide for consumers, drivers must be able to get from point 'A' to point 'B' without any issues. While on the road, truck operators rely heavily on their equipment to ensure they arrive on time and to deliver hauls safely. With that in mind, tire manufacturers and mobility companies are advancing tire technology and creating digital solutions to provide fleets with the tools and data they need to drive productivity and efficiency. As an additional benefit, sustainability is top of mind with the creation of new products and technologies, helping fleets reduce their overall carbon footprint.
To maximize investment and uptime and achieve sustainability goals, fleets have begun to turn to all-encompassing tire programs that incorporate premium tires, digital solutions and retreading. The goal of a successful tire management program is for a fleet to get the most out of their tires and, by extension, their haulage assets. Each product or solution within the program contributes to a different phase of the tire's life and helps promote tire circularity.
Tire Circularity Starts with Premium Tires
It seems obvious, but we sometimes forget that tires are the only part of a vehicle that touches the ground. Tires are one of, if not the most important pieces of equipment for any fleet. Over the years, tire technology has made significant strides, and leading tire manufacturers are creating products custom-designed to the needs of a given vehicle with enhanced performance and durability. Commercial trucking fleets are no different and need tires that can endure hours of operation every day. Truck tires must be able to survive debris and road conditions through all seasons, as well.
Tires represent a significant investment for fleets, making the reduction of tire waste a top priority for fleet owners who seek to meet their sustainability goals. One significant way tire manufacturers infuse environmentally friendly practices into premium tires is with high-quality tire casings. The casing is the sturdy base within the tire that helps protect the tire. In essence, the casing should be viewed as a key asset for fleets, as it can be recovered and used again for a retreaded tire. If properly taken care of, trucking fleets can retread their tires multiple times with a well-maintained casing, minimizing tire waste and serving as a cost-benefit at the same time.
Long-haul commercial fleets are defined by cross-country routes and hundreds of thousands of miles, meaning their tires are most effective when they maximize fuel efficiency. Tire manufacturers continue to further develop how tires are engineered to help address this key element of trucking operations and have specifically designed products that reduce rolling resistance, which plays a critical factor in a vehicle's fuel efficiency. When a tire is at optimal air pressure and the rolling resistance of the vehicle has been kept at low levels, trucks do not exude as much energy to move. This reduction in energy allows vehicles to move with more ease and, in return, receive better gas mileage.
Digital Solutions to Optimize Fleet Performance
Downtime can cause a range of issues for a fleet, from lost productivity and labor to unplanned costs. Simply put, downtime can threaten the success of a commercial fleet and the safety of drivers. Manufacturers are beginning to develop and market technology that helps monitor the health of the tire, preventing downtime-related issues before they occur.
This technology usually involves a sensor placed on or inside the tire that gathers data on the tire and then transmits the information to a cloud-based software that can be viewed from a mobile app. The fleet owners gain insights in real time that allows them to adjust operations and constantly optimize to maximize the efficiency of their trucks. With data at their fingertips, issues that arise from underinflated tires can be addressed before getting back out on the road, helping trucks get the best performance from their tires.
Another important factor of this technology that should not be overlooked is its adaptability in meeting fleets where they are with the insights they need to succeed. To gather additional insights, travel centers have begun installing sensor technology at truck stops to provide fresh data to drivers on their tires so they can take action during their breaks. The insights gathered in real-time while traveling have proven invaluable in preventing issues before fleets return to the road.
Driving Sustainability Through Retreading
The third and final piece to most tire programs is retread tires. Retreaded tires have been around for decades and are widely used among trucking fleets. Tire retreading is one of the oldest and best examples of a circular economy, reducing waste and optimizing the fleet's investment in a premium tire casing. When the worn tire can no longer be repaired for safe use, the worn tire's casing is repurposed for its next life cycle. Bridgestone's Bandag business is a prime example of the impact of retreading. Operating since 1957, Bandag is estimated to have kept an estimated 300 million tires out of the waste stream and saved an estimated four billion gallons of oil in the years since.
Retreading is not only an environmental benefit for fleets, but a cost savings opportunity as well. When a premium tire casing is recovered and retreaded, businesses can extend the life of their tires and lower tire cost per mile without sacrificing performance. Fleets that utilize retreads can see up to 30% in savings compared to buying a brand-new tire. Moreover, the more you retread your tires, the more you save.
Supply Chains will Continue to Benefit from Advancements
Mobility has become about more than just tires. Indeed, tire programs that connect tires, digital solutions and retreading are redefining how trucking fleets manage their equipment and view their operation. This holistic approach can provide fleets with a level of knowledge that better equips owners to maximize the life of their tires, drive uptime and reduce overall cost.
As manufacturers continue to develop innovative solutions and adopt more technology to enhance fleet operations, these fleets can better meet their sustainability goals. This will only help to make our nation's supply chain more efficient.