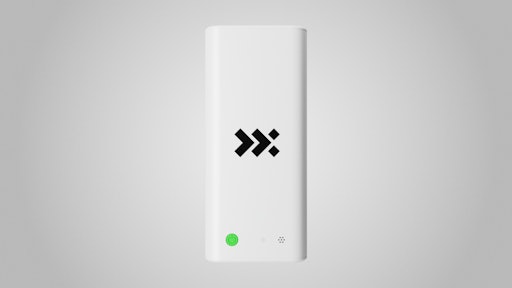 Nexxiot
Nexxiot launched the new Nexxiot Cargo Monitor, a revolutionary sensor device that delivers connectivity and data performance in a compact, easy-to-use design.
"There are approximately 30 million standard intermodal shipping containers in use around the world today, most of which are not tracked in any way," says Matilda Bouchet, managing director, head of cargo at Nexxiot. "Until now, shippers and cargo stakeholders have had little to no visibility to their goods in transit. Nexxiot's new Cargo Monitor device seeks to completely shift the paradigm by providing end-to-end visibility and critical data in a rugged, cost-effective and easy-to-deploy package."
From BusinessWire:
The

Nexxiot

Cargo Monitor delivers real-time visibility of the location, status and condition of shipments anywhere in the world.
The

Nexxiot

Cargo Monitor can be used to monitor the transportation of high-value and sensitive products, including perishables, pharmaceuticals, textiles, condition-sensitive industrial products, electronics and more.
The device is simply attached to the cargo within the shipping container.

Nexxiot's

proprietary, purpose-built software identifies cargo-damaging shocks, excessive humidity, condensation, temperature, cargo provenance and security issues.
The sensor can also connect to wireless maritime services (WMS), which provides connectivity on ocean vessels at sea via cellular and Internet of Things (IoT) networks.
The

Nexxiot

Cargo Monitor includes complete visibility taken from prime data, direct from the cargo itself. Shippers can prove the location, status, cargo quality and can demonstrate process accountability and transparency on delivery times to the receiver. Carriers can improve safety performance and reduce issues resulting from mis-declaration of cargo. Data is used to accelerate essential processes, including freight declarations, customs checks and stowage planning to reduce journey times.
"The global supply chain has come under intense scrutiny over the past few years," says Bouchet. "Resource insecurity, geopolitics, blockages and interruptions all serve to highlight humanity's dependence on transported cargo to maintain a high quality of life. Manufacturers, retailers and consumers increasingly expect to receive information on cargo location and quality. The new Nexxiot Cargo Monitor represents a quantum leap forward in supply chain visibility and intelligence."