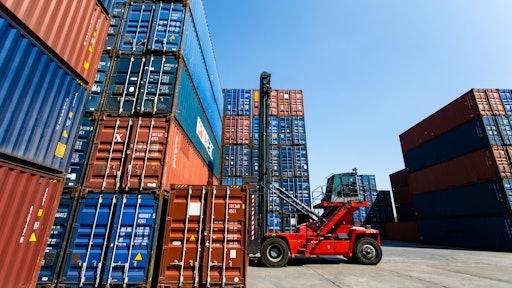 navee/stock.adobe.com
In 2022, high consumer demand is the status quo. While many retailers are experiencing a surge in revenue compared to 2021, shipping bottlenecks and exorbitant freight costs are still causing headaches. Under Armour's North American sales, for example, experienced 29% YOY growth, but company executives report that freight costs are eating away at gross margins, hampering transportation and inventory operations.
When it comes to shipping pain points, soaring freight costs are just the tip of the iceberg.
Retailers are struggling to meet consumer demand, manage import volumes, and account for a disrupted labor force. Pandemic-triggered layoffs decreased trucking and rail shipment capacities, and carriers' rates surged due to abundant demand and relatively scarce supply. These challenges won't let up anytime soon, but retailers can re-strategize their supply chain operations by refining their carrier networks and leveraging data to source new transportation solutions.
High freight costs and even higher demand: The supply chain puzzle of 2022
As the new year kicked off, retailers left a period of just-in-time inventory and entered a period of just-in-case inventory. For some companies, this led to inventory over-corrections (think Peloton, which now has a stockpile of inventory sitting untouched on store shelves and in warehouses). Even so, the market is very similar to the way it was in the first half of 2021 — consumer demand is high and transportation bottlenecks are still causing stalled merchandise at ports and delayed shipping journeys. But for carriers, those responsible for moving retailers' products, rising costs from labor competition and equipment shortages have spurred an increase in freight rates. And as long as carriers are working with limited capacity, freight costs are essentially theirs to define.
This carrier-defined marketplace has skyrocketed rates across transportation modes — from intermodal carriers and trucking to international shipping containers and ocean freight vessels.
Despite growing consumer demand, the transportation industry is struggling to increase the trucking and railway labor force, secure more container shipments, and contract international shipment lanes. For retailers, this means problems beyond budgeting for high freight cost. Now they're struggling to achieve high carrier compliance — ensuring that carriers deliver goods within the agreed-upon scope, on time, and in good condition.
This is a lot for businesses to manage. But after back-to-back years of pandemic-induced supply chain hurdles, most retailers are able to increase their agility and continually optimize supply chain operations. In 2022, supply chain optimization is defined by re-sourcing networks for untapped opportunities and prioritizing alternative carrier models. It's time for businesses to be more creative with their transportation networks, and building a more robust carrier network often comes down to looking outside of your normal realm of options.
Four tips to optimize your supply chain network
High freight costs are here to stay, but you can adapt by engaging untapped carrier opportunities. Here are a few tips for optimizing supply chain strategies in a carrier-defined marketplace:
1. Cultivate strong carrier relationships.
Strong carrier relationships are key to ensuring long-term compliance. When engaging with new and established carriers, emphasize a service partnership and push for "stickier" rate agreements. This involves setting clear expectations for service and price at the outset of the partnership and using data to continually monitor performance against the agreed-upon plan.
2. Aim for carrier contract rates.
In a market where freight rates are high, push for contract rates with carriers. This decreases the risk of future cost volatilities and goes a long way toward securing long-term service partnership with carriers — rather than relying on the spot market to find one-off (and more expensive) carriers in a jam. Locking in contracts with reliable carriers will ensure more predictable rates, support stable carrier relationships, and help you achieve higher carrier compliance.
3. Re-source your network for new opportunities.
As deviations from plans occur, look for carrier opportunities outside of your normal scope — particularly in growing transportation segments like independent owner operators and smaller trucking fleets. These smaller carriers are more agile and offer more competitive rates, which will help secure much-needed capacity to sustain your shipping operations. Including these non-traditional carriers in your arsenal can widen your network and reduce the opportunity for future supply chain bottlenecks, in addition to offering cost-savings potential.
4. Leverage carrier data.
Empower your transportation and logistics teams with carrier benchmarking data and routinely evaluate the compliance of individual carriers and lanes. With this data at your fingertips, you can build relationships with carriers more directly and reduce your reliance on brokerage firms and expensive spot market options. Data-driven technologies, like carrier search databases, can also help in sourcing new carriers and adjusting your network to achieve high compliance.
Anticipating future freight trends
With the second half of 2022 on the horizon, rising interest rates and potential wage stagnation will likely mean that consumers won't have the level of surplus cash they did in 2021. Consumer demand is high now, but it will gradually slow in response to this approaching economic cycle.
Retailers that spent the beginning of 2022 building a stockpile of just-in-case inventory may eventually find themselves with more product than they can sell. Inventory management and supply chain optimization will continue to be crucial as you adjust to less intense consumer demand for goods, and this will likely shift carrier rates to a middle ground where you'll have more say in determining freight costs.
But no matter the state of the supply chain marketplace, you should continuously adjust your shipping strategies to account for future reverberations from pandemic-triggered disruptions. Even as the supply chain adapts and carrier networks regain capacity, building a resilient supply chain strategy comes down to your ability to routinely source your network for better transportation solutions — enabling you to proactively account for shipping bottlenecks and freight rate volatility.