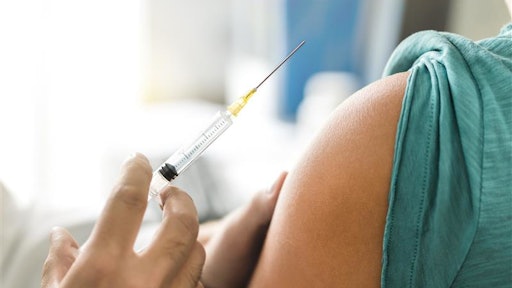 terovesalainen - Adobe Stock
With the emergency authorization of two highly-anticipated vaccine candidates, the end of the Coronavirus disease (COVID-19) pandemic is in sight, but the safe and equitable distribution of these vaccines is an arduous process. In fact, getting over 7.7 billion individuals vaccinated all over the globe in the midst of rapidly increasing infection rates is the challenge of a lifetime. As a result, there are a variety of factors that should be kept top of mind as the world goes through a global vaccine rollout.
Achieving an equitable global vaccine distribution. While the world's superpowers are in the midst of securing and distributing these vaccines to high-priority individuals within their borders, there is significant concern around how to safely distribute these vital resources to developing countries. These challenges manifest in a variety of ways. In Nepal, for example, the country has reduced its overall testing capacity in hopes of saving adequate finances to obtain these vaccines. As a result, when viewed from a global perspective, this inequality in resources raises ethical concerns regarding the lives of some being prioritized over others.

In order to ensure this equitable distribution, various entities all over the world need to work together to develop plans and processes that ensure all are equally protected. This will require private organizations, non-profits and government entities to align their strategies and work together to enable access to these vaccines for those in developing nations. Because of their established infrastructures, developed nations will hold significant responsibility in the production of vaccines – whereas organizations are working to ensure these materials are distributed appropriately. Through this approach, the organization aims to have over 2 billion doses available for participating countries by the end of 2021 – no matter their income levels.
Ensuring an air-tight cold chain for vaccine stability and safety. While vaccines have historically taken multiple years to produce, this pandemic streamlined the research, development and clinical trial processes to ensure the distribution of these life-saving materials as quickly as possible. However, while the speed of this vaccine development is unprecedented, there needs to be significant focus placed on the overall safety and efficacy of the vaccines. That said, while both the Pfizer and Moderna vaccines developed on the same mRNA technology platform, their cold chain requirements vary. In fact, Pfizer's vaccine requires ultracold shipment (at -70°C), while Moderna's vaccine has shown stability at regular freezer temperatures (of -20°C). When coupled with limited available data around the thermostability of these vaccines, the cold chain requirements during the early stages of distribution must be closely monitored and within small ranges.

An additional challenge for this distribution is that ultracold shipments are not common, and as a result, there is limited infrastructure equipped to easily handle these shipments, especially in developing countries. As a result, entities will need to go above and beyond to ensure these ultracold requirements are maintained. This can be done by ensuring there is sufficient dry ice available, medical-grade glass capable of withstanding extreme temperatures, special packaging and more. That said, without proper stress testing of the cold chain in place, it's up to cold chain logistics providers to conduct deep, data-driven analyses of these supply chains to ensure they are properly equipped with both equipment and necessary labor to handle these logistical requirements.

To find success with global distribution, logistics providers will also need to optimize both network and flow paths, and to design these paths with variables impacting developing countries in mind, such as limited cold chain capacity and ensuring that distribution sites are properly mapped to specific vaccination points. This will minimize travel requirements and help ensure the efficacy of the vaccines throughout every stage of their distributions.
Early stage vaccine production capacity is severely limited, and organizations should prepare for various constraints. At the start of this pandemic, various industries shifted their production focuses from items such as car parts and vacuum cleaners to instead develop much-needed items like ventilators, masks and more. That said, vaccine development does not feature the same production flexibility, and as these vaccines need to follow Good Manufacturing Practices (GMP), this process is highly regulated and monitored. In addition, the technology required to produce vaccines is deeply specialized, and as a result, will spend its early stages in only a select few manufacturing facilities.

In order to maximize the benefits of this limited production, organizations must prioritize optimizing the use of this production capacity to guarantee the strongest benefit for the world at large. This will also shelf some of the responsibility on logistics providers, as they will need to be looped in on the vaccine production projections from the manufacturers to ensure they have the production capacity required to house and safely transport the vaccine. Given the severity of this pandemic, there is no room for error on either front, and strict needs for both supply and demand must be their top priority.
While a safe, successful and equitable global vaccine distribution is a challenge, it is not impossible. It's vital that various governments around the world, in tandem with third-party logistics providers, work together to ensure their cold chains are intact, that areas in need are on track to receive the vaccine and that they are prepared to address any issues or shortages as they arise. By placing an emphasis on the above factors, organizations can ensure they are prepared to handle the most critical aspects of distribution and any other challenges that may arise.