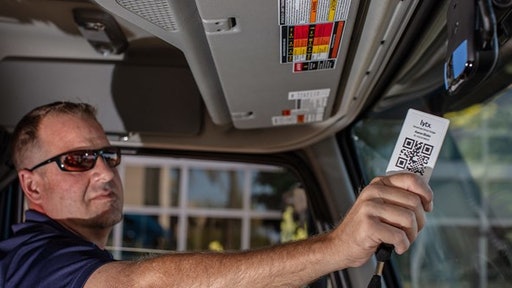 Lytx
Last year saw approximately 1.5 million traffic fatalities worldwide, many involving commercial vehicles. And, that number is only rising. Insurance premiums for fleet operators are rising as well. Insurers are paying out claims approaching $1 billion annually against trucking companies.
Companies in transportation-intensive industries are intent on reversing these troubling trends. Understanding that a large percentage of accidents are traced to distracted driving and unsafe speeds or following distances, fleet operators are mining the combined experience of a vast universe of drivers for insights into their drivers' judgments and behaviors.
With its video telematics solution, Lytx provides drivers and fleet managers with insights into their driving behaviors, past and present, so they can learn how to drive more safely and efficiently. Their coaches, in essence, are hundreds of thousands of fellow drivers logging tens of billions of miles every year. Lytx's video telematics solution looks inside and outside the truck's cab. It captures driver data and behavior in real-time, from their braking and acceleration rates to their cell-phone use, and places it in the context of external data, like weather, posted speed limits, road and traffic conditions. The result is rich intelligence for instructing drivers, for helping to mitigate risky behaviors and for reinforcing positive behaviors.
Rich location data feeds artificial intelligence
Lytx builds what its Vice President of Technology, Michael Phillippi, terms "the ground truth" by connecting its Advanced Driver Assistance Systems (ADAS) and partner technologies, such as HERE's location and mapping technology, with the truck. The Lytx ADAS platform provides a view out the vehicle's front windshield, warning of collisions and monitoring lane-keeping, for example. Partner technologies capture an array of data points on a second-by-second basis. In HERE's case, those data points relate to the truck's speed, posted speed limits and the proximity of intersections or construction zones and more.
Lytx's APIs expose the platform, raw location data and events it collects to partners and customers interested in developing commercial offerings outside of Lytx's core safety mission, tying the Lytx system to a routing system to improve efficiency, for example. For his part, Phillippi devotes his efforts to refining and feeding more data into risk-related machine-vision and artificial intelligence (AI) algorithms focused on driver behaviors.
"Our challenge lies in maintaining our focus. There are so many things we could do in terms of offerings, but we're building to a world where every second we can tell you exactly what the vehicle's doing, what the driver is doing and what we see around the vehicle," he says. "It's about low-latency, high-fidelity, machine vision- and AI-driven visibility into risk."
Phillippi believes the quality of HERE's location data—its fidelity—is essential for Lytx to be successful at AI and building machine vision models.
"Look at speed detection. It's all location-driven information, but context is vital. When you're having a conversation with a driver, it matters if he was speeding in a school zone, for instance. If he was going 65 miles per hour, it's important to know if he was on a highway or not. Or, if he's not wearing a seat-belt, it's important to know if he was inside a yard, trying to navigate a low-speed, or was he on the road? The reality is without rich location information, nothing works," says Phillippi.
A partnership for the long-term
As Lytx's Senior VP of Corporate and Business Development Eliot Feldstein points out, Lytx created the video telematics industry.
"Every step we took was uncharted territory. So, when we built up a partnership ecosystem, we needed to find partners who were comfortable with uncertainty, who understood our vision and who had the flexibility to work with us over time. We found in HERE a partner who's willing to take the path," he adds.
The partnership started with a limited focus—Lytx would leverage HERE's location technology to identify posted speeds on particular road segments. It expanded quickly though, as the nature of the customers' challenges matured and expected Lytx to solve a broader, more complex set of needs.
"One of the key elements, besides posted speed, the type of road - drivers operate much differently on highways than they do on a dirt road. We utilize HERE technology to tune our algorithms to the road segment for a particular vehicle type," says Phillippi.
Adding necessary location-based context to the interaction between a commercial driver and his environment grew to be integral to Lytx's mission.
"We realized the opportunity HERE location technology and location data represented," Feldstein says. "By integrating HERE's powerful location-based information with the knowledge we have of the roads, the drivers and the driving environment from a real-time perspective, we created a multi-dimensional perspective of risk, safety, efficiency, and productivity."
So ingrained is HERE's location data into Lytx's business that it's virtually indistinguishable from the company's offering.
"It's such a core capability we've forgotten about it in a sense," Phillippi says paradoxically. "At the same time, so many of the advancements we've made and will make are dependent on location datasets advancing as well. We're actually in a great position to partner with HERE on that. We're traveling many roads repeatedly, so we're able to update road conditions more frequently and provide more insight into how a piece of infrastructure is evolving."
That focus on the long-term permeates Feldstein's vision of his company's partnership with HERE. He's not just looking from a technology perspective, though; he sees a long-term alignment of vision, culture and strategic direction.
"Ultimately, it's been a very successful journey, both in terms of Lytx and the industry we support, but we think our best days are ahead of us. We know that the flexibility HERE offers us won't stop today; it's something we'll be able to count on in the future. That's critical because a customer doesn't just expect us to deliver synergies at this instant, they expect us to continually evolve in lockstep and deliver to a progressively higher standard as time goes on."
Companies in this article