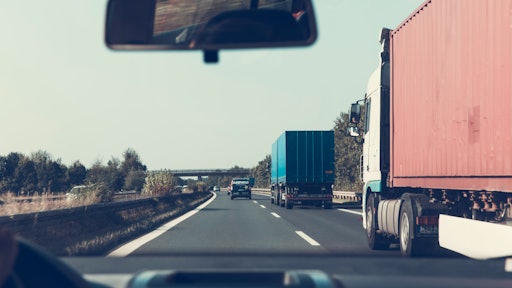 Pexels
The holidays are almost upon us, which means shippers on both sides of the border are bracing for a huge increase in moving freight in the next few months. As businesses scramble to ensure that goods will arrive in plenty of time for the holidays, this is the busiest time of year for the cross-border shipping industry.
As cross-border freight volumes continue to climb, the ongoing trade tensions between the U.S. and China are ramping up activity even further this year as businesses look to shift their sourcing. U.S.-Mexico trade has increased by nearly 17% over the past two years, topping $611 billion in imports and exports in 2018. And with hurricane season disrupting September shipping, freight rates are expected to rise even more as we approach the end of 2019.
Beyond the race to Black Friday and the start of the holiday shopping season, it's also the end of the financial year, which puts additional pressure on shippers. To end the year profitably, shippers need to manage rising rates without breaking their budgets.
Simply put, being prepared for this time of year matters in multiple ways. Check out these five strategies to help your organization triumph over holiday shipping hassles.
Identify what is urgent and what is not.
When capacity is at a premium, you don't want to pay extra for items that aren't time-sensitive. Prioritizing your shipments can help you save dollars when it counts. Which items are urgent, and which can wait a few days? To ensure this strategy doesn't end up compromising delivery timelines, work with carriers and brokers that can give you certainty and security on when your goods will arrive.
Make sure your paperwork is done on time.
Much of the timing for cross-border shipping depends on border transfers. If your paperwork isn't ready to go when your goods reach the border, you'll unfortunately wind up at the end of the line, which can potentially add days to transfer times. During the congested holiday season, those delays can be even more severe.
That's why it's critical to make sure you properly prepare your documentation and paperwork prior to shipment. If you're shipping between Mexico and the U.S., you'll need a forwarding agency in each country. Depending on which country is importing the goods, the appropriate forwarding agency should wrap up paperwork, make payments and finalize any other requirements well before shipments reach the border.
Get creative with your routing.
If you know you'll need an item within a specific timeframe, it can actually be more cost-effective to move it across the border and warehouse it in the United States, as opposed to waiting until the last minute to ship out of Mexico. Start pushing out loads now to avoid rate spikes. Then, store the product just over the border until the destination requests a portion of the material.
By shipping now instead of waiting for the holiday frenzy, you can limit the risk of products not arriving on time and reduce total shipping costs – all while accomplishing the hardest part of the cross-border relay. For example, you may pay $300 in warehousing costs if you hold a container on the border for a few weeks, but you avoid a potential $500 to $600 increase to ship that container a few weeks later. Multiply that by dozens of units, and you start to see real savings.
Consider transloading.
If you're open to having your freight switch hands along its journey, transloading can save a lot of money during the peak holiday shipping season. For example, if your freight is going from Mexico City to Chicago, it can save quite a bit of money to transload at the border to a driver that's already going in that direction. Another bonus? Transloading can actually result in a smoother journey. Instead of sending a driver from Mexico to brave an intense Midwest winter, transloading to a driver with more winter weather experience can help keep freight more secure. No matter how many carriers you use along the way, make to vet each one to ensure they're licensed, have the appropriate insurance and meet other business requirements.
Keep a close eye on your freight.
As movement increases dramatically on all highways at this time of year, travel conditions become slower and more dangerous. That's why it's especially important for shippers to pay close attention to ensure shipments stay on track. Look for carriers and brokers that offer real-time tracking, allowing you to stay connected to your drivers and your shipments each step of the way. If something goes awry, it's easier to resolve if you're already in close communication with your team.
The holidays are a hectic time of year, and cross-border shipping is no exception. With proper planning and management of your shipments, though, you can end the year with happy customers and a healthy bottom line.
Ohad Axelrod is the co-founder and CEO of Fr8Hub. Based in the border city of Laredo, Tex., Fr8Hub's digital freight marketplace directly matches cross-border shippers throughout Mexico and the domestic United States with available carriers and drivers.