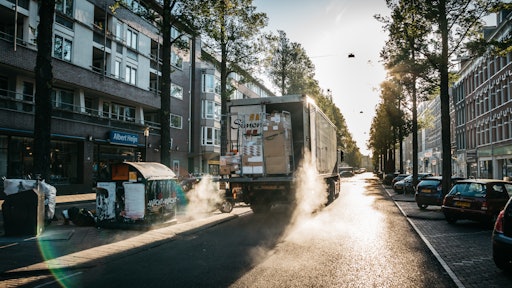 Photo by Andrew Kambel on Unsplash
In an effort to attract and retain customers, shippers must elevate last-mile delivery processes to build a lasting customer experience. Justin Cramer, global project management director and co-founder of ProShip multi-carrier shipping software, provides five strategies to achieve that objective.
1) Know the expected customer experience: What shippers don't know can and will hurt their business. It's surprising how often this critical element is overlooked in the warehouse, says Cramer. "Shipping software is useless unless it includes data about customer needs," he says. "Whether it's a premium order or requires special handling, fulfilling those requests is the first priority to ensuring an expected customer experience."
2) Gain access to a wide selection of carrier services: Obtain contracts with carriers and services that provide the greatest flexibility in meeting customer expectations. Flexibility means contracting with more than one carrier and using more than the basic services offered. With FedEx, UPS or DHL, each has its strengths and weaknesses, says Cramer. A single-carrier offering limits shippers and prevents them from leveraging variations in networks, capabilities and cost. "While you always want to use the most cost-effective service, don't pay for next-day air with one carrier when another can deliver using ground," notes Cramer. "Explore your options, understand the carrier networks and make cost-effective decisions."
3) Create comprehensive business rules: Establish business rules on how to meet expectations with failover results. If a carrier is promising next day ground or express delivery, shippers have to take carriers at their word. The rest comes down to time-to-fulfillment. How long after a customer places an order on an e-commerce site does it get processed and fulfilled? "Business rules dictate how orders will be packed and shipped based on customer need and timeline," says Cramer. "With a food order, there are business rules around whether dry ice or other packing materials are used for shipment. These rules drive the order decision-making within the warehouse."
4) Leverage rate shopping: Apply the appropriate level of carrier rate shopping to select the lowest-cost service level to meet or exceed customer expectations. Two decades ago, the focus was about normalizing across carriers and comparing final costs—a powerful analysis for a non-committed service. The next generation, says Cramer, examined in-transit services and transit filtering. Service commitments became critical, as did in-transit options. Mega brands redefined what business-day delivery meant. An order on Friday and delivery the following Wednesday was no longer acceptable. "We're now in the third generation of rate shopping called advanced-date shopping," says Cramer. "We now account for transit days versus non-transit days on a per-origin, destination and carrier service basis. You need to know the availability of carrier trailers and when their contents will enter the carrier transit network to ensure a package arrives where and when it's expected."  
5) Use quality shipping software:  Use shipping software capable of automating all the business rules and rate-shop rules for workstations. Whether it's print and apply lines or batch processes, it must be flexible enough for any physical or technical process within the warehouse. "If you need a true omnichannel approach, it requires several different methods when executing shipments," says Cramer. "You may have front-line shipping, end-of-line shipping or simulated shipping within an e-commerce suite. It's imperative to have the software that allows you to automate those processes at a work station.
Companies in this article