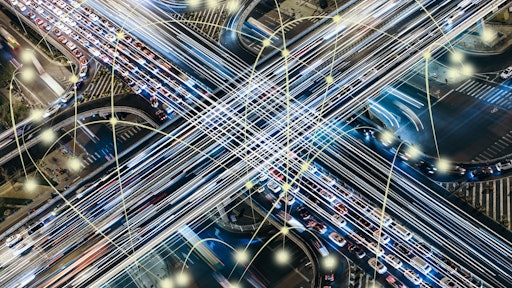 Getty Images
Refrigerators that can create shopping lists, display photos and stream television shows straight from your Netflix queue. Exercise equipment that gives streaming access to real-time fitness classes, so people can unleash their inner competitor from the comfort of their own home. A couple of quick taps within a cellphone app to manage entire home systems, including televisions, beds and coffee tables. While this seems like some utopian future reminiscent of an episode of the Jetsons, it's actually our modern reality—albeit without Rosie.
So, what do technology and transportation have in common? A lot, actually. More consumers than ever are purchasing these large, integrated products. Not only do they need to be shipped and delivered beyond the doorstep, but they require precise assembly and installation. Transportation providers need to rise to the occasion of these new shipping demands, determining how to extend their verticals and incorporate innovative new systems to accommodate shipping these over-dimensional, high-tech and high-touch items.
Deciding how an item will be shipped is only one part of the battle. Retailers and manufacturers also need to enlist carriers that possess personnel with the skills to properly deliver and assemble the items, putting superior white-glove service at an even greater premium. This is the piece of the shipping puzzle that consumers directly experience and the element that's arguably judged most harshly. We've all been told never to shoot the messenger—in this case the carrier—so if the delivery fails to meet expectations, a harsh critique is cast back onto the shipper.
Freight mishaps just won't do, so shippers are now left wondering what spells success when moving this caliber of freight.
Know What's "App"-ening
Like the technology-heavy products being transported, mobile apps will help make for the seamless communication that shippers and consumers crave. Transportation providers will need to establish expectations up front with the shipper, such as key check-ins, day and time of delivery, and how long the setup will take, to help maximize the effectiveness of using an app and ensure shipping objectives are being met.
With communication and data parameters established, apps will be able to help identify kinks in the supply chain, flagging the problem right away through the push notifications we've all come to know and love-hate. Having a real-time update versus one that comes substantially after an issue occurs positions the carrier to immediately talk with the shipper to course-correct the problem. Time is money, so every minute wasted when an issue arises causes a negative ripple effect throughout the rest of the supply chain. Using technology puts a carrier on the offensive, resulting in better communication and service, and leading to a more productive working relationship.
Reap the Rewards Through a National Footprint
The increase in direct-to-consumer goods means transportation needs are different now. Traditional shipping approaches don't satisfy requirements because certain carriers can't provide the level of service required to oversee it. While technology and communication are imperative for successful final-mile transportation, equally so are providers that have a nationwide network and the logistics and assets in place to manage the freight across the entire network.
Transportation providers that can utilize their entire network of terminals and manage the freight from origin to destination are a key advantage. When freight is fragmented across different agents for different parts of the journey, there's a lot of room for error and uncomfortable radio silence. If one provider is able to control the delivery from start to finish, while integrating technology throughout the process, it can maintain visibility across the entire process and provide the proactive communication and management both the shipper and customer require. For example, Schneider offers a national footprint of 24 terminals and is able to utilize enterprise resources through its van, intermodal and logistics offerings to ensure that there's complete control over the end-to-end solution along with the required capacity. Essentially, a robust network, end-to-end tracking and excellent freight management is the ultimate trifecta for effective final-mile shipping.
Embracing a Brave New Tech-Focused World
Products that were once the imagination of Saturday morning cartoons are now part of our functioning reality. With those high-tech household innovations comes the need for savvy transportation and delivery. Carriers need to possess the capability within their service offerings to handle the products being shipped.
Success also lies in the use of innovative platforms and mobile apps, as well as the ability to lean into new tech-focused spaces, to provide communication and data to shippers and consumers alike. Whether it's the order itself or the process of delivery, technology is the through-line of today's market. Find a carrier with a breadth of capabilities that values innovation to optimize supply chain visibility—your first and final mile will thank you.
Rob Bulick is senior vice president and general manager of First-to-Final-Mile for Schneider, a premier provider of transportation, intermodal and logistics services.