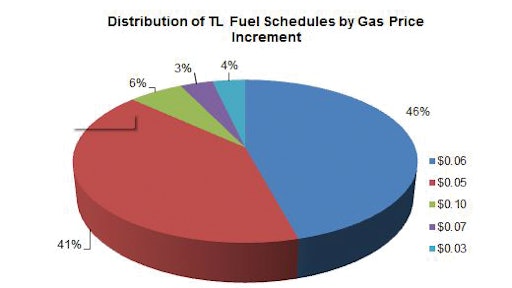 With fuel and other accessorials representing 20 to 35 percent of the total cost of a shipment, the case is strong for shippers to understand and benchmark how their accessorials compare to market competitive standards. Shippers may think that they have optimized rates by only focusing on line-haul rates, and not realize that their accessorials push them above market costs overall. When shippers know how their accessorials compare to other shippers and best practices for accessorials, they will be able to tackle all aspects of their freight costs effectively.
Freight benchmarking traditionally was limited to average truckload line-haul rates from one city to another. In recent years, benchmarking has expanded to cover new areas. In addition to truckload benchmarking, shippers can benchmark less-than-truckload (LTL), intermodal and other modes. Shippers also are actively benchmarking transportation management best practices. Yet, these benchmarking efforts rarely address freight accessorials.
Transplace, a third-party logistics and technology company, is active in all areas of benchmarking and works with shippers across multiple industries to understand how they compare, and as appropriate, help adjust their freight strategies and tactics to optimize any opportunities identified. In 2011, Transplace completed an extensive accessorial study which led to the development of market benchmarks for 22 accessorial charges. While many shippers cite an approach of "standardize and minimize," the Transplace Accessorial Benchmarking Study revealed that there is a wide spread in accessorials paid.
The Transplace Accessorial Benchmark Study compiled accessorial charge data from a diverse set of more than 100 companies representing industries such as consumer package goods (CPG), retail, manufacturing, paper/packaging, technology, building products, food and other sectors. A core set of five accessorials that applied to the majority of shippers were identified. Additionally, 17 assorted accessorials also were analyzed.
Observations on the five core accessorials include:
Fuel surcharge schedules. The Accessorial Benchmark Study revealed that the vast majority of shippers utilize a cents-per-mile-based schedule (84 percent of companies in the study). Percentage-based fuel schedules were used by 14 percent of companies, with the 2 percent balance using both. For those companies using the cents-per-mile schedule, the vast majority (87 percent in total) were almost evenly split between $.05 and $.06 increments (see Fig. 1). Intermodal fuel surcharges were also included in the study. With fuel surcharges subject to volatile swings, understanding their relationship with linehaul charges is key. Over half the companies in the study hold a fuel peg between $1.19 and $1.30. (See Fig. 2).
Stop-off charges. For truckload service, stop-off charges were compared for stops one to four on a given load. Fifty-eight percent of shippers claimed an increasing charge per stop scale, while the 42 percent balance held a flat charge per stop. When considering just the stop-off charge for the first stop, the study revealed that shippers are charging various levels between $50-$100 (see Fig. 3).

Detention with power. Under the current hours of service environment, time equals money for carriers. Detention is an important accessorial for both shippers and carriers to manage. The Study revealed:
80 percent of companies allow two hours free detention; only 7 percent of companies allowed less than two hours
Most companies (60 percent) pay in increments of 15 minutes, with an additional 30 percent of companies paying by the hour
Detention charges typically range from $50 to $60 per hour
Detention without power. For shippers that use drop and hook trailers, detention on trailers is another key charge to watch. The Transplace Study noted:
Approximately half the shippers incur a $50 charge, with the balance falling between $20 and $75 per event.
Three out of five shippers allow for 72 hours free before detention applies on trailers
Truck order not used. For shippers that do not use a truck to which they tendered a load, truck order not used charges typically apply. The Accessorial Benchmark Study showed:
Half of the shippers utilize a $150 charge
The second most common level is $250
Other miscellaneous accessorials benchmarked: As mentioned above, the study also considered 17 other freight charges. Of note in that group, benchmarks were run for:
Loading and unloading
Re-consignment
Layover
Hazardous materials
Out of route miles
Conclusion: The combination of market-driven line-haul rate plus accessorial benchmarks equip transportation professionals with the knowledge they need to best understand their cost position relative to the freight marketplace. Failing to account for fuel and other accessorial charges may lead a shipper to inaccurately conclude that their rates are above or below market benchmarks. Shippers can better handle their procurement efforts through using the combination of linehaul and accessorial benchmarks available.
For a copy of the Transplace Accessorial Benchmarking study, contact Brent Hudspeth at [email protected] or 972-731-4727.
Cindy Bosecker serves as Manager of Engineering at Transplace. She leads a team of engineers in providing optimization and decision support services to various customers. In addition, Bosecker manages procurement activities across Transplace and serves as a subject matter expert on all aspects of freight procurement.
Brent Hudspeth serves as senior director in the Consulting Practice at Transplace. He has 20 years of experience in the transportation and supply chain sectors, split between industry and consulting capacities. Prior to joining Transplace in 2009, Hudspeth served in management roles within companies such as Coca-Cola, AT Kearney and Nextjet.