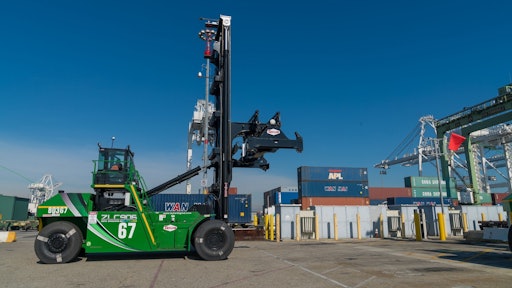 Port of Long Beach
Two shipping terminals at the Port of Long Beach are putting new, zero-emissions equipment known as top handlers through the rigors of operating in a real world environment to test their ability to meet the challenging duty cycle at a busy seaport.
The terminals, Long Beach Container Terminal and SSA Marine at Pier J, will demonstrate three never-before-tested Taylor battery-electric top handlers (two at SSA and one at Long Beach Container Terminal) for approximately six months. International Longshore and Warehouse Union members are operating the vehicles.
The equipment is part of the Port of Long Beach's Commercialization of POLB Off-Road Technology Demonstration Project (C-PORT), which is designed to leverage Long Beach's market position as the nation's second-busiest seaport to test the viability of the zero-emissions vehicles that will be used on the docks to meet the Port's 2030 goal of a zero-emissions cargo handling fleet.
The demonstration project is part of California Climate Investments, a statewide initiative that puts billions of cap-and-trade dollars to work reducing greenhouse gas emissions, strengthening the economy and improving public health and the environment — particularly in disadvantaged communities.
These are the first zero-emissions top handlers working at a seaport," said Paul Gagnon, vice president of SSA Terminals. "SSA is pleased to participate in this demonstration of technology that shows the potential to both clean the air and speed cargo flow."
"At Long Beach Container Terminal, electric vehicles move containers from the ship to the sorting yard, where electric stacking cranes ready them for pick up," LBCT President Anthony Otto said. "Seeing what it takes to add an electric top-handler to make our groundbreaking operations even greener is something we're very interested in, and we're happy to be part of this collaborative project."
"This is an important step for the Port's transformation to zero-emissions," said Long Beach Harbor Commission President Bonnie Lowenthal. "The partnership we see at the Port of Long Beach between the goods-movement industry, equipment manufacturers and agencies like CARB is the way we will reach our zero-emissions goals."
"We expect these battery-electric top handlers to be able to make it through the daily two-shift cycle before needing a recharge," said Port of Long Beach Executive Director Mario Cordero. "We're eager to see the advancements in technology that come from this demonstration, and what it means for the commercialization of this equipment."
The Port of Long Beach is one of the world's premier seaports, a gateway for trans-Pacific trade and a trailblazer in goods movement and environmental stewardship. With 175 shipping lines connecting Long Beach to 217 seaports, the Port handles $200 billion in trade annually, supporting more than 575,000 Southern California jobs.