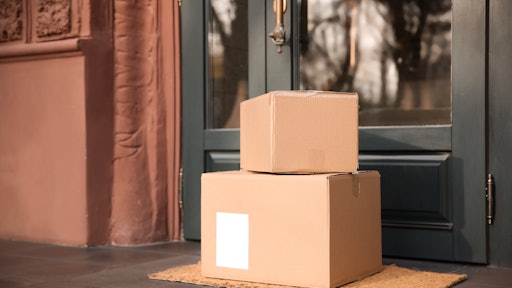 AdobeStock_321471783
Industrial real estate, including distribution centers and manufacturing plants, continues to be in high demand throughout the United States, exemplified by the exceptionally low vacancy of 5.1% and record rents that rose 8.6% in the past year alone. The improving national economic and health conditions are unleashing pent-up consumer demand, fueling the consumption and production of goods and supporting continued industrial expansion. E-commerce firms are a notable component of demand for industrial property, which along with logistics/distribution and manufacturing companies, made up more than 70% of the top leases transacted during second-quarter 2021. An integral component to these booming sectors and many others, the packaging is also growing its real estate footprint.
The packaging industry plays a critical role in supply chain management and is a major occupier of industrial property. Packaging products protect goods during transport, facilitate returns and are crucial to establishing and maintaining brand identity. The growth of e-commerce has increased the need for certain types of packaging, including corrugated boxes, which represent more than 80% of online-order packaging, along with padded mailers and polybags.
The Coronavirus disease (COVID-19) ushered in the stay-at-home economy in which e-commerce sales rose 39% from the pre-pandemic start of 2020 to the first quarter of 2021; in comparison, that growth was 14% over the previous 12-month period. Simply put, more online orders mean more boxes. E-commerce uses seven times more boxes per dollar of retail sales than an equivalent purchase at a brick-and-mortar establishment. Companies and consumers have expectations for faster delivery times, which correlates with a greater number of smaller orders, all of which drive more packaging demand. E-commerce sales will likely taper from that 'pandemic pop' growth rate as some consumers return to in-store buying, but e-commerce and attendant packaging needs will adjust to a new normal predicated on annual growth. Beyond e-commerce, the pandemic stimulated demand for packaging in other sectors including medical device packaging.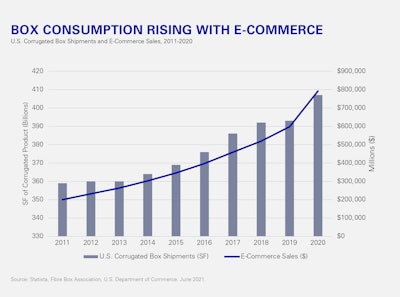 Nationally, nearly 407 billion square feet of corrugated product was churned out in 2020 as online orders spiked during the pandemic, and demand is likely to remain elevated. Based on current space utilization of top corrugated occupiers, Newmark estimates that an extra 250,000 square feet of direct industrial space for every additional 1 billion square feet of corrugated product could be needed to accommodate annual growth.
Newmark has also been tracking some of the most significant real estate expansions in the packaging sector, and just the Top 10 from 2020 and 2021 so far add up to more than 5.5 million square feet. Across the packaging industry, companies are expanding their manufacturing and warehouse/distribution footprints to meet increased demand and locate closer to clients. These occupiers often have specific building needs such as heavy power for manufacturing processes, as well as rail access, which is economical for transporting bulky, low-cost materials.
Markets with availability and developable land have supported greater packaging industry expansion than supply-constrained coastal markets, where occupiers must weigh the cost and availability of real estate vs. transportation costs. In addition, locations with good logistics infrastructure and nearby freight rail access will be highly sought out. For example, in the Dallas market, the confluence of available land and sophisticated logistics infrastructure has driven significant recent packaging expansion.
Over the past five years, leasing volume driven by the packaging industry has been 45% higher than the sector's 20-year average. Packaging firms have expanded their footprint through heightened merger and acquisition activity, which has increased over the same period with an average deal volume of 30% above the 20-year baseline.
Beyond the growth story, the packaging sector is also increasingly important for branding of digitally-native retailers since there is no in-store experience. Additionally, packaging can facilitate easy returns, which are attractive to the consumer. In short, packaging design is rapidly evolving beyond just expanding, which is leading to real estate needs among packaging occupiers.
With billions of square feet of corrugated product getting churned out each year, consumers and vendors alike are increasingly aware of, and concerned about, sustainability. There are various approaches companies take to make packaging and shipping a more efficient and sustainable endeavor, such as a movement toward "on-demand" packaging that provides just the right-size packaging for a shipment. Instead of having an item rattling around in an oversized box, "on-demand" packaging will fit the correct size for that item, reducing packaging waste, as well as transportation costs accommodating more packages per trip. Other sustainable solutions include items that ship in their own container.
Industrial expansion from packaging companies is expected to continue in the post-COVID-19 economy, with packaging industry growth forecast at 3.5% annually over the next five years in response to increased demand from the consumer and production sides. Industrial space requirements may evolve as the sector becomes more efficient: with increased focus on environmental, social and governance (ESG) criteria, stakeholders across the spectrum of the packaging supply chain are looking to be more sustainable, agile and cost-conscious. While the nature of packaging is in evolution, the fundamentals of producing and delivering packaging materials to clients will continue to be supported by industrial real estate.