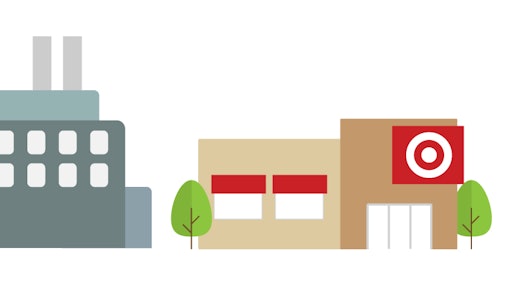 Target
Target is setting an ambitious sustainability goal that will help reduce 96 percent of greenhouse gas emissions from its entire supply chain.
The company will unify its suppliers under the same goals, whether they're working with raw materials, manufacturing or transporting those products to our shelves.
"Our new climate goals will reduce our carbon footprint from source to shelf, as we work alongside our partners within our supply chain to lower emissions and help create a better tomorrow," says Brian Cornell, chairman and CEO, Target. "We have a responsibility to our guests and the environment to set high expectations and encourage ambitious reductions in greenhouse gas emissions, promoting positive change throughout the industry to have an even greater impact for generations to come."
Target categorizes greenhouse gas emissions into three different scopes:
Scope 1: Emissions generated from

Target

facilities
Scope 2: Emissions from energy we purchase to power

Target

facilities
Scope 3: Emissions generated from the entire supply chain, such as the creation of the products and services we sell
The company will reduce its absolute Scope 1, 2 and 3 greenhouse gas emissions by 30 percent below 2017 levels by 2030. It is also committing that 80 percent of its suppliers will set science-based reduction targets on their Scope 1 and 2 emissions by 2023.
The retailer partnered with Anthesis for guidance to ensure that the goals will meet the requirements of the Science Based Target initiative (SBTi). Adding a Scope 3 reduction goal places Target among the select U.S. companies with SBTi-approved goals to reduce carbon emissions thorughout its supply chain.
"It's vital for companies, particularly major retailers, to lower the emissions in their supply chain if they are serious about addressing their environmental impact," says Dexter Galvin, Global Director of Corporations & Supply Chains at CDP, one of the Science Based Targets initiative partners. "We applaud Target for setting ambitious goals covering their entire supply chain, and hope more companies can follow in their footsteps to boldly address and combat climate change, to create a thriving economy for people and planet."
Target plans to reduce Scope 3 emissions by working with suppliers to transition to renewable energy sources and implement their own emissions reduction projects. It will also expand its Clean by Design initiative by partnering with the Apparel Impact Institute to scale performance improvement programs that focus on reducing energy use and emissions in our suppliers' factories. In addition, it will also leverage its Vietnam Improvement Program in partnership with the International Finance Corporation as it increases factories' energy and water efficiency.