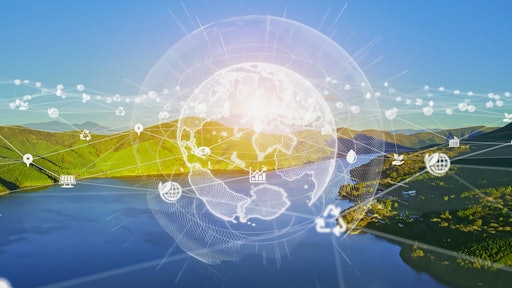 metamorworks/stock.adobe.com
In fleet management, electric vehicles are here to stay. The U.S. Energy Information Administration predicts light-duty EVs to rise to 31% of vehicles on the road in the next 30 years. That means in 2050, 672 million fleet EVs will be in use. Given this influx, it's no surprise that many sustainable fleet management systems are being built and companies are seeking solutions to help cut carbon emissions.
When it comes to reaching sustainability goals, data and measurement are crucial and robust data can help build a plan to reach those goals. Companies are setting goals and targets, without clear guidance on how to achieve them, leading to setbacks, poor results and wasted costs. While discussing goals can inspire and motivate companies and employees, leaders must ask the hard questions on how to take action. When building a sustainability plan, first establish which goals the team is looking to achieve, such as, committing to zero-waste, going carbon neutral, or reducing water or electricity consumption. As these goals come together, businesses can utilize data to make key decisions to guide company practices.
For example, if a company is looking to reduce CO2 emissions, they will need to analyze their current vehicle program, determine which vehicles have the highest emission and begin looking to replace them. Most businesses do not have insight into their sustainability efforts and emissions data, however there are companies that can come in and quantify these amounts. These companies implement data management strategies in a three-pronged approach:
Measure vehicle program impact
First of all, it's important to quantify the company's current vehicle program emissions to create systems and guidelines that allow them to work to reduce emissions. Having insights into both mileage and the vehicles on the road helps provide accurate snapshots of CO2 emissions.
Fleet programs already know all the details about their vehicles but in personal vehicle reimbursement programs, this is a blind spot. Many companies use a generalized approach to calculating vehicle emissions and apply a single emissions rate to all business miles travelled. This is inherently inaccurate and leaves companies with limited information on how to start improving. This is why leveraging a management system that provides exact emission measurements and rates is crucial to track progress accurately.
Additionally, using a data management system allows for a single source of truth, that syncs all processes and communicates in real time. This creates better more measurable outcomes and will help more accurately plan for future initiatives.
Build companywide programs
Once companies have an accurate representation of vehicle emissions, it's time to build a program. Having a sustainable fleet management system in place will reveal what vehicles are producing the most emissions, where they are located and then allow businesses to implement changes such as reducing unnecessary travel, track and reduce fuel waste, and also explore electrification options. Then, if companies begin to swap a few vehicles with electric options, with a management system in place, they will be able to compare the outputs of each and decide how to best proceed.
When making these changes, it's important to be able to achieve goals with minimal business interference and maximum company transparency. This can be done by allowing company visibility into next steps for execution. By onboarding teams to these data systems, companies allow for more collaboration and greater innovation within the program.
Now more than ever, employees are looking for companies that are aligned with their values and are committed to larger efforts. This has increased the demand for transparent sustainability plans across industries. As an employer, it's crucial to implement a data management system to scale sustainability efforts and ensure the business is not left behind in the new age of hiring.
Analyze results
After gathering the initial data and having the tools in place to meet the established initiatives, those things do not matter if managers are unable to view and analyze the results. Having up-to-date, accessible and accurate data provides the ability to track progress, refine goals accordingly, monitor costs and see where there is room for improvement. Hand in hand with transparency, results allow employees to see the impact they are having personally on sustainability efforts.
Sustainability is no longer simply a social responsibility but a strategic asset and even a compliance requirement. With the right tools in place, companies can retain top talent and better meet their goals. As the rise of EV's and the conversations around climate change continue, adopting sustainable solutions will be critical for companies' success and advancement. For companies to avoid falling behind and achieve the most efficient sustainability program, the time is now to adopt data management systems.