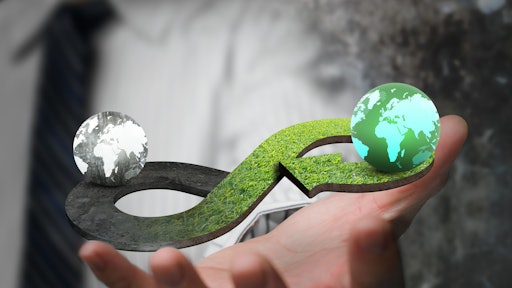 TSUNG-LIN WU/stock.adobe.com
Consumers and businesses continue to use more resources than the planet can sustainably provide. At current rates of consumption, experts predict that it would take another two to five 'earths' to support just the population we have today. What needs to change? Broadly it falls into two main themes:
Addressing challenges within supply chains

– using responsibly sourced materials from sustainable origins, produced under ethical conditions and transported using the most carbon-efficient method possible. Only producing what is needed to satisfy demand and minimizing waste.

Circularity

- when products are not needed anymore, ensuring they can be used by someone else or re-used in another form by recycling as many of the constituent parts as possible with the ultimate goal being that nothing is wasted – a true circular economy.
Addressing the supply chain challenge
A recent Avery Dennison study of 318 global supply chain technology executives and 7,500 consumers in China, France, Japan, UK and U.S. brings the scale of the problem into sharp focus. The study found that 8% of all stock produced goes to waste before it even reaches consumers, with approximately $163 billion worth of inventory being discarded each year due to expiry or overproduction. The supply chain executives that formed the study estimate that on average this equates to 3.6% of their firm's annual profits. Some sectors are suffering particularly highly with 10.2% of stock thrown away in the beauty sector while 10% of food is discarded before it reaches the consumer.
Those executives are acutely aware of the issue with 9 in 10 stating they are 'under pressure to become more sustainable' and respondents estimate that on average 28.9% of their organization's sustainability impact comes from the supply chain. Many are taking action to address these issues. For instance, a substantial 61% of organizations surveyed have already deployed solutions to track unique items in the supply chain with this rising to 95% in the coming years as a result of plans in place.
This is an essential development since without item-level tracking it's impossible to have true visibility into the supply chain and manage the lifecycle of products to prevent them from going to waste. Making products 'connected' via digital identification technologies such as RFID and managed by data platforms means that 'black holes' in inventory can be identified, dwell times in warehouses can be eliminated and stock takes completed in minutes and hours versus days and weeks. It also reveals valuable new information that can help brands differentiate their products with consumers such as providing carbon footprint data and ethical sourcing of raw materials.
Moving towards circularity
Connected products are also critical to enabling a circular economy. While we see elements of reuse and recycling today, the coming years will take this to a new level and much of it is mandated by legislation which will necessitate far greater transparency of products and the materials they are made of. The most advanced initiatives fall under the European Union 'Green Deal' — this includes the Digital Product Passport scheme, which is part of the Ecodesign for Sustainable Products Regulation (ESPR). Rolling out from 2026, the initial focus is on the electronics, batteries and textile sectors but will also affect the ecosystem around it such as logistics and retailers. The whole purpose of the scheme is to consider the entire life cycle of products, from production to end-of-life disposal, covering all the processes relating to materials sourcing, production and supply chain. It will require a deep level of transparency from producers (and their suppliers) as to exactly where all constituent materials are sourced and will necessitate digital identification along every step of the journey. Similarly, in China, the Circular Economy Development Plan encourages businesses to expand upon their recycling facilities and leverage green designs to contribute to a circular economy by 2025.
Consumers demand more transparency and products that last
While the above is mandated, the drive towards circularity is also being demanded by consumers. The same report outlined above assessed the factors that drive the purchasing decisions of 7,500 global consumers. It found that quality is ranked equally alongside cost as the 'number one concern' for purchasing products and durability is ranked by one in two global consumers as a 'top five concern'. Over two in five surveyed agree that when buying clothing, "transparency about a product's journey to the consumer is important to me".
The onus for addressing these concerns is placed firmly on brands and retailers —81% of people believe businesses have a significant role to play in addressing the climate crisis, and 51% say they believe that companies "aren't acting fast enough".
All of the above points to a desire for better quality products, more transparently produced. Products made to have a longer lifespan are more likely to be reused, recycled or upcycled, and mean there is an opportunity for brands to deliver on the promise of durability by framing their communications around a longer lifespan or second life.
A new age of circularly
We're now entering a new age of circularity. It's becoming increasingly common for retailers to provide 'take back' schemes whereby they purchase used products from their customers for subsequent resale. Schemes, such as Adidas Infinite Play, provides brands with additional revenue streams as well as a convenient way for their customers to give products a second life. Initiatives like this work much better when the product has a digital identity since the age, origin, and authenticity of the product can instantly be verified. Recycling centers often struggle with items that are made up of multiple materials since it can be hard to identify what they're made of and how to handle them but when tagged with digital identification technology and integrated with data platforms this now becomes much easier and should result in less going to landfill and more reuse.
Legislation is pushing companies into action but just as importantly, increasingly eco conscious consumers are demanding that the brands they buy from are 'doing the right thing'. There is therefore a huge opportunity for brands to differentiate today while at the same time staying ahead of the regulators. As we have seen, the innovations that can power the circular economy are available today and their use is becoming more pervasive and is steadily taking us toward a true circular economy that benefits people, planet and profits.