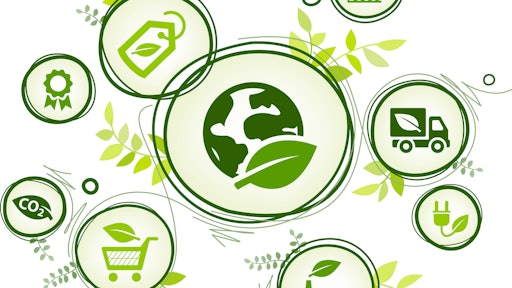 j-mel/stock.adobe.com
A recent Oxford Economics survey of global supply chain decision-makers revealed an interesting finding. While 88% of them had created a sustainability mission statement, only 52% had actually executed them. Moreover, only 21% seemed to have visibility into their supplier sourcing of sustainable products.
The emergence of supply chains as sustainability's new frontier is rooted in a mutually advantageous paradox. Studies show that not only do supply chains account for more than 90% of an organization's greenhouse gas emissions (GHG), but also 50%-70% of their operating costs. In such a scenario, where bringing down the first can also reduce the second, let us see how organizations can converge the goals of responsibility and profitability.
Visibility – the first imperative for sustainable supply chains
Questions on sustainability bombard organizations from all sides – the consumer, employees and regulators. Visibility through the supply chain cycle is thus a critical priority — evaluate risks or successfully anticipate and prepare for disruptions. More importantly, visibility enables organizations to draw up an effective business case for sustainable supply chains. Nike is an amazing example of a visionary genius far ahead of its time. As early as 2004, it started work with designers, scientists, coders — and even students — to study the long-term sustainability impact of the materials that went into its products. In 2012, the results of this work were consolidated into Nike Materials Sustainability Index (NMSI), an information database. This was followed by the launch of the MAKING app in 2013, which provided information for designers to choose the right sustainable materials for their designs. Today, this app embeds the high-impact elements of chemistry, energy and greenhouse gas, water and land, and waste. Truly the stuff of pioneering legends!
Digital tools, platforms and analytics can help organizations gather data, capture metrics, set performance goals and indicators, provide incisive visibility, and draw up effective governance measures.
Stakeholder collaboration — the key to supply chain transformation
Ikea, which consumes nearly 1% of the world's cotton production, has partnered with Better Cotton to encourage and promote sustainable use of resources in its supply chain network. Today, over 1,10,000 farmers have adopted more sustainable farming practices within IKEA projects.
Supply chain ecosystems are extremely complex, and any change involves transitioning of major business, societal and geographical systems. The truth is that organizations control very little of these systems or the companies that are part of it, and so it can happen only through collaboration. Walmart, for example, has used technology and collaboration with World Wildlife Fund and some NGOs to boost supplier engagement for better collaboration. Project Gigaton, as it is called, is a platform to engage with and help their 4500+ suppliers to decarbonize their chains. The results have been impressive - more than 500 million metric tons of emissions have been reduced through product design innovations.
A portfolio approach to sustainable supply chains
There is significant scope for organizations to act across the entire value lifecycle to create sustainable supply chains. From innovations in product design, creating efficiencies in how operational resources are deployed, optimizing supply chain networks (that looks at enhanced local sourcing) to adopting circular economy models — there is enough and more scope to achieve sustainability. Based on where they rest on the maturity spectrum in each area, organizations will need to take appropriate actions — 'must-do,' incremental or transformative — based on the demands of their business. Nestle has adopted an effective lifecycle approach to building a green supply chain. They assess each product for environmental impact at every stage of their production —educating dairy farmers on best practices for sustainable production, handling and storing manure to cut down GHGs and deploy it as fuel, switching to clean fuels in their manufacturing process, enhancing factory efficiency, labeling all products to enable end-of-life packaging treatment and more.
Return on investment of a business-driven approach to sustainable supply chains will accrue from a healthy combination of cost reduction, revenue growth, risk mitigation, customer loyalty, brand reputation, talent retention, and more. E&Y research has shown that champions of sustainable supply chains have experienced financial benefits even though they had not made cost-saving their primary motive — 25% gained through increased revenue, and 43% anticipated a spurt in their share prices in the next couple of years.
According to a McKinsey research report, the supply chain is a pivotal factor in seven of the nine dimensions of ESG. We have the mandate to make real change and an epochal opportunity to transition to a clean and socially equitable economy. The place is here, and the time is now.