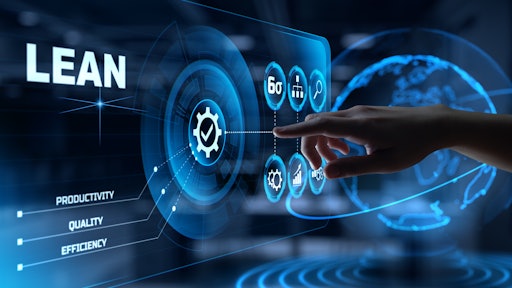 AdobeStock_405532536
In business, even small enhancements in productivity and efficiency can have a big impact on your bottom line. Whether it is through reduced lead times, reduced waste, minimized downtime or improved quality, operations are looking for any advantage at every turn. Lean management is a long-term operational discipline that systematically seeks to improve efficiency and quality by identifying and eliminating waste in time and materials.
While the focus of lean manufacturing is on driving continual improvement in quality, cost, service and delivery, significant sustainability benefits typically occur as a result as well.
Identify areas of waste
The goal of lean management is to develop processes that reduce waste to create a productive and sustainable working environment for employees and customers. Understanding waste is a key component to analyzing and breaking out value-add vs. nonvalue-add steps within processes and services. Lean management helps your team make targeted process improvements by providing visibility into day-to-day operations. Lean management encourages an operation to standardize work, track KPIs and make continuous improvements to ensure the most efficient processes are in place. This process puts facility managers in a position to make timely and meaningful decisions to improve sustainability efforts.
An example of standardization is the 5S process, a system for organizing spaces so work can be performed effectively and efficiently. In a warehouse space, 5S lean management principles can help reduce waste and improve productivity. The five steps are:
· Sort — sort and remove all unnecessary items
· Set in Order — arrange items so they are in the optimal place for their function
· Shine — clean, inspect and maintain on a regular basis
· Standardize — photos and visual controls to keep everything as it should be
· Sustain — perform regular audits and implement continuous improvements
With the collective goal of finding and reducing waste throughout the organization, lean management transforms a company's culture to focus on improved quality by constantly searching out optimization opportunities.
Use data to eliminate waste
Facility managers know all too well that you simply can't improve what you don't measure. By combining lean management techniques with telematics solutions, facility managers have access to a wealth of real-time data at their fingertips to track key performance metrics, including energy consumption, battery performance and cost savings. This tool allows managers to pinpoint inefficiencies, identify opportunities to operate more effectively, control and reduce waste and, ultimately, measure progress against specified sustainability goals.
Through this process, companies can improve environmental and cost sustainability efforts and look into less wasteful practices, such as alternative energy sources, implementing a reuse/recycling program, reusing wastewater and incorporating sustainable packaging.
Instilling a culture of continuous improvement
Operations and facilities managers need not act alone. Lean management adds value to an organization by empowering employees to make improvements and take ownership of the tasks they accomplish on a daily basis. A key element of lean management is a kaizen, or "change for the better." A kaizen is a tool that provides everyone within your organization, regardless of title or responsibility, a way to submit their ideas to improve your business. Employees throughout an organization are taught to identify wastes in their processes and come up with solutions to address those wastes by submitting improvement suggestions (kaizens) to management. If a kaizen is found to be successful, it will then be implemented throughout the operation.
By teaching workers to spot waste, or potential errors in their work, lean management provides them with practical tools to share their ideas and develop impactful, long-term and sustainable solutions.
Conclusion
The journey of continuous improvement is just that — continuous. It never ends. It is vital to consistently evaluate and analyze your business, people, processes and plant. Ongoing monitoring and analysis of waste by collecting data will provide a roadmap to achieve maximum operating efficiencies now and into the future.