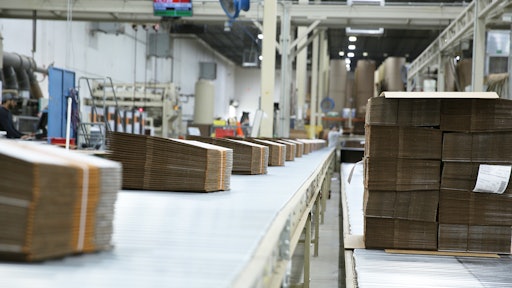 Fibre Box Association
Like finding the calm at the center of a storm, simple truths and profound inspiration can often be revealed in the midst of chaos.
But, there are ways to capture the spirit of building new things to better ourselves and our world by taking action within the areas of business that we own and control. This is where supply chain executives can and should play vital parts.
Building a smarter, more efficient and productive supply chain can play an integral role in building toward that better future. And, the time is right for that building to begin.
The Coronavirus disease (COVID-19) has created a "New Normal," where the movement of goods has outpaced the movement of people in our society. This has resulted in an elevated state of e-commerce, and it's likely that the demands for businesses to effectively serve their customers remotely will only increase from this point forward.
This is a clarion call. The crisis provides the impetus needed to push companies to make changes to their systems, to find opportunities that mitigate risk and find new solutions to build a better future and deliver a better world. A few important steps are required.
First, acknowledge the pressing problem
The increase in e-commerce volume comes with a societal toll—the commensurate increase in packaging waste that is polluting the environment. Plastic packaging alone accounts for 47% of the estimated 7 billion metric tons of plastic waste generated since the 1950s, nearly 80% of which is left to occupy landfills or pollute oceans and other natural environments.
This is no longer an issue confined to the fringes of culture. Investors want action now and will be demanding change before committing future dollars.
Shed inefficient legacy processes
Before addressing change, legacy businesses often act as if they are confined to tried-and-true processes, especially when budgets and spend are being managed closely. This may be born from the complacency of founding business owners, but there are many reasons for supply chain executives to push beyond those blocks when addressing their packaging.
As delivery demands explode, companies can make dramatic improvements to their packaging systems that will significantly reduce waste while still improving the bottom line. Unlike legacy systems that utilize plastics, paper packaging is renewable, biodegradable and curbside recyclable, allowing partners to significantly reduce or eliminate non-renewable packaging. And, innovative packaging solutions that further advance sustainability efforts continue to be developed. Now is the time to transform, not to lean back.
Never lose focus on the long-term
In moments of crisis, steps are often taken that focus too heavily on short-term needs. Cost-cutting is always of primary concern in moments of financial hardship. But, it is just these kinds of moments that require a renewed and relentless focus on long-term brand value, especially when developing new client and customer relationships.
Consumers develop their image of a company's brand at every touch-point, and more demand that their values be reflected throughout the purchasing cycle. In packaging, the unboxing experience has perhaps never been more important. Consumers expect their products to be delivered efficiently, reliably and damage-free, while also demonstrating a concern for the environment. This may seem like a short-term challenge, but it's more of an opportunity. Build packaging that protects products while also utilizing sustainable solutions, and you'll build long-term value that will increase satisfaction and brand equity.
Align all levels of the organization, inside and out
This kind of commitment to change can't take place in a vacuum. A promise to build toward the future requires alignment across all aspects of the business. Leadership, product development, human resources and capital must all work toward the same goals, which need to be stated clearly and aggressively. Keeping all parties in alignment will speed the transformation process and keep priorities in order.
The demands on today's supply chains will only increase in the months and years ahead. But, in some sense, manufacturing advances have given us the opportunity to "have it all" when it comes to packaging solutions. We can build efficient and fast solutions that create significant damage reduction without adding cost. We can build deeper relationships with customers during trying economic times. And, we can build on initiatives that focus on reducing environmental footprint.
The time to build is now. And, we can all play a meaningful part that will leave the kind of legacy we've always hoped for.