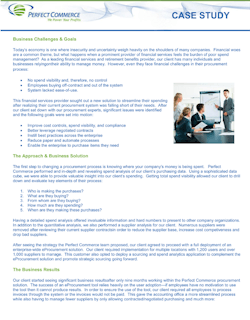 Financial woes in today's recovering economy are a common theme. And even in the financial services industry—which can't afford to manage money oorly—procurement can slip under the radar.
So what happens when a prominent provider of financial services feels the burden of poor spend management?
The first step to changing a procurement process is identifying where your company's spend is going. Address your financial challenges and overcome such issues as a lack of spend visibility; the need for system ease-of-use; and employees buying off contract and out of the system.
 Don't let your procurement system fall short of your needs. Learn how one financial services provider streamlined their spending through an e-procurement solution and a redefined strategic sourcing strategy. Read this case study and adopt the best practices you need to lower your costs, reduce errors and empower your procurement team to generate higher value for your business.