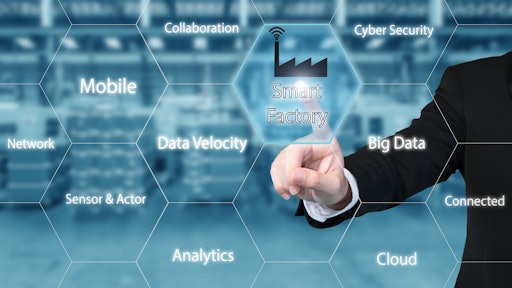 ake1150/adobe.stock.com.
Every holiday season comes with its own set of challenges, especially for manufacturers. Witnessing another tumultuous year, manufacturers find themselves in the midst of another period of disruption, scrambling to clear any roadblocks that may result in issues or delays. As the industry faces the anticipated challenges of holiday demand, now is the time to take note of processes and operations to optimize in 2023.
Manufacturers continue to seek ways to mitigate the challenges of persistent supply chain issues, limited visibility and high operational costs continuing to plague the industry. With the rise of Industry 4.0, manufacturers are achieving higher levels of efficiency than ever before. In fact, according to the MPI Group, 32% of manufacturers believe that the impact of Industry 4.0 on processes, plants and supply chain will increase profitability by over 10%. With 2023 on the horizon more manufacturers are utilizing digital engagement to improve their processes. More specifically, 56% of manufacturers are most likely to digitally engage with suppliers for real time sharing of quality metrics.
As manufacturers look for areas of improvement in the new year Industry 4.0 will continue to power the optimized future of manufacturing. Expect to see more digital engagement with suppliers to improve quality control, strengthen customer experience and drive sustainable initiatives through circular economy in the new year.
Striving for improved quality control
In manufacturing, the uptick in holiday shopping brings with it a time consuming influx of returns. The National Retail Federation stated that consumers are expected to return more than $816 billion worth of retail merchandise purchased in 2022. As a result manufacturers must ensure an efficient process is in place to handle this large volume.
Through innovation like artificial intelligence (AI) tools, manufacturers can improve this process by reducing human intervention and providing actionable insights to the seller ultimately saving valuable time and money. AI can enable warehouse employees to identify defects on returned products, reducing human involvement and allowing manufacturers to cut their handling costs. Automating the quality inspection process saves time and allows more focus on alternative aspects of the business like fueling increased efficiency across the supply chain.
Optimizing the customer experience
Customer expectations for fast and efficient purchasing experiences are higher than ever and placing more pressure on businesses to deliver high quality products, services and experiences. As the new year sets in customer expectations are a high priority.
Today's customers demand seamless delivery with the snap of their fingers. Visibility into the supply chain such as traffic forecasting, has become critical. This transparency enables retailers and logistics companies to effectively manage customer expectations and provide accurate predictions. Routing and dispatch solutions allow retailers and logistics professionals to keep their delivery promises with accurate route planning and holistic tracking systems. This ultimately leads to improved delivery capacity and a reduction in operational costs and a better overall customer experience.
As the retail industry continues to adapt to evolving shopping experiences across channels, AI platforms become crucial in providing superior curbside, delivery and touchless in store buying experiences. Giving retailers a competitive edge in meeting customer needs.
Driving sustainability through circular economy
According to Gartner 86% of business leaders see sustainability as an investment that protects their organization against disruption. With sustainability a top-of-mind issue for businesses, Industry 4.0 technologies are enabling companies to identify the business value in prioritizing sustainability, engaging in a circular economy, helping them identify ways to cut emissions and bolster net-zero journeys at a never-before-seen pace.
Retailers and manufacturers are evaluating their current processes and identifying gaps for improvement in 2023. Having a deep understanding of how sustainability factors contribute to business success will be critical in setting and achieving both environmental and business goals. Industry 4.0 technologies can provide an end-to-end view on waste in the supply chain, allowing companies to assess the circularity opportunity and significantly improve the management of product circularity.
As we look ahead, digital engagement and industry 4.0 technologies will continue to revolutionize the industry in 2023 by creating efficiencies in the production chain, solving inefficiencies in quality control, improving customer experiences to meet ever-growing expectations and driving circularity.