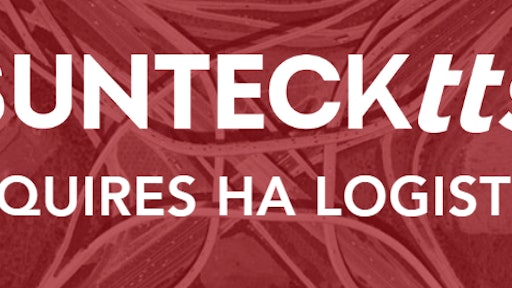 SunteckTTS, a leading provider of agent‐based, technology-driven transportation logistics services, today announced that it has acquired HA Logistics, a California-based freight brokerage and logistics company with full-service sales and support operations in San Ramon, CA, Ontario, CA, Columbus, OH, Dallas, TX, Rohnert Park, CA and Seattle, WA.
Established in 1984, HA Logistics has built an extensive offering of transportation services and solutions for its customers throughout North America. Alan Huttmann will continue as President of HA Logistics.
"We are pleased to be the latest addition to the SunteckTTS organization," says Huttmann. "This move represents a great opportunity to expand our client service offering and remove obstacles to efficiency by utilizing SunteckTTS' technology and transportation solutions. Joining SunteckTTS further enables our team to provide customized solutions to our customers."
"HA Logistics has shown remarkable growth and is an excellent fit to help accelerate our company's expansion," says Ken Forster, chief executive officer of SunteckTTS. "Further, this acquisition will drive growth and profitability by combining our technology-enabled transportation solutions with HA Logistics' experienced sales and operations team members. "
Ranked the ninth largest freight brokerage in the U.S. by Transport Topics, SunteckTTS continues its growth through technology expansion and strategic M&A.