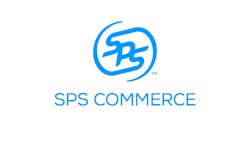 St. Paul, MN May 13, 2002 Supply chain connectivity specialist SPS Commerce today rolled out a series of enhancements to its SPSCommerce.net, a service for connecting retailers and distributors to suppliers.
SPS has beefed up the service, which connects 40,000-plus suppliers with their customers in the retail supply chain, in the areas of enablement, catalogs and transactions, with a particular focus on helping large enterprises integrate with small to midsize trading partners.
"Over the past six months we have witnessed a significant psychological shift in behavior in the retail and distribution market around using enablement programs to extend the breadth and depth of supply chain integration," said Jim Frome, executive vice president and chief strategy officer at SPS Commerce. "The latest set of enhancements to SPSCommerce.net are designed to meet the needs of the hub organization for tools to manage the supplier on-boarding process and community management, and the needs of suppliers to simplify the experience of meeting the compliance requirements of their customers."
On the supplier enablement front, SPS is introducing four portal templates (or "portlets"), each tailored to a distinct type of enablement program. The goal of the templates is to accelerate the integration process for trading hubs looking to bring increasing numbers of partners into their electronic trading environments, according to Frome. "They were saying, 'I don't do integration once. I have major phases. Help me in all of them,'" Frome said of SPS' trading hub customers. "And the suppliers keep saying, 'Keep this thing simple.'"
A buying organization looking to enable partners can have its suppliers go to a portlet on the Internet and go through a process to establish a connection with the buying company. The portal template provides information on the enablement process, the buying organization's information requirements and available support from SPS to help with the process.
The four portal templates provide for extending integration for either catalog or transaction data to a new group of previously unconnected suppliers, usually SMEs; extending integration for either catalog or transaction data to an additional order management process; deepening the level of integration by adding additional documents sets across a group of suppliers that are already integrated; and providing ad-hoc supplier enablement of new suppliers that make up the standard monthly "churn" of suppliers that retailers and distributors realize as part of their standard business process.
The templates are intended to help automate and simplify the supplier experience during setup and certification, and also to assist the retail and distribution hub in delivering a clear, concise message about the program and managing progress of its suppliers' integration efforts. SPS believes the four portlets help take supplier enablement one step closer to a "self-service" setup and certification effort across the four programs:
SPS' Catalog Service now provides native support of item data unique to both hard and soft line product lines. Previously, SPS' catalog primarily focused on managing item data for soft lines products, that is, items such as clothes that have sizes, colors or other describing attributes and that change faster, as opposed to hard line goods like shovels that have fewer describing attributes and that are relatively static.
In addition, SPS says it has upgraded its pricing management capability with features that help suppliers manage multiple price-points for a single retailer, such as when a retailer is buying goods at different prices in different regions. Unique price field data can now be managed for a single retailer by custom groupings that can be used to support regional, seasonal and promotional pricing requirements.
The SPS Transaction Service adds a new suite of end-user productivity tools for WebForms called the Accessory Library. Accessories are optional tools suppliers can drop into the WebForms environment to minimize the amount of data entry required to process advanced transactions such as advanced ship notices (ASNs).
The five accessories currently available include Case Pack/Auto Fill, which simplifies workflow for multiple carton creation with ASNs; Carrier Integration, which automates integration of tracking numbers and carrier shipping labels; Transaction Templates, which eliminates up to 95 percent of data entry for commonly used transactions with little variation; Transaction Aggregation, which allows a single keystroke and/or action to be taken across multiple transactions such as in batch shipping; and Transaction Tracking, which automatically manages the administration (opening and closing) of transactions across a single order.
SPS also has improved the validation capabilities of its File Integration solution to provide near real-time feedback and more detail regarding success/errors of submitted transactions.
"The hosted service model has matured to the point where the small to mid-sized suppliers are not only participating in e-commerce, but are requesting more capabilities from their service providers," said Jon Derome, program manager for business applications and commerce at technology research firm The Yankee Group. "SPS Commerce continues to exhibit an in-depth understanding of and execution on the unique needs of this market with the numerous improvements to their service."
The latest upgrades to the service come as SPS said it is hearing from increasing numbers of small and medium-size enterprises (SMEs) that, having integrated with one or more customers, are looking to expand their integration efforts to encompass a greater portion of their customer base. In the past, suppliers have often felt forced to undertake integration as a result of pressure from buying organizations. Now the suppliers have seen the benefits of integration and are seeking additional return on their investment in integration tools and technologies.
"We started to see a shift in the last six to nine months, where [the suppliers] are starting to act more like customers than victims," said Frome, explaining that suppliers want enablement solutions to be easier to use and more tailored to their requirements.
Responding to this trend, SPS assembled a "Connections Factory," a dedicated unit to help suppliers integrate with additional customers through the provider's SPSCommerce.net service, which currently provide connections with more than 400 buying organizations in the retail and distribution supply chain.
SPS has also developed a "Quick Start" program to help its existing buying organization customers extend their trading hubs to encompass larger numbers of suppliers in a shorter implementation time than was possible previously.