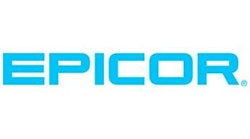 Belmont, MA, and Irvine, CA — May 8, 2003 — Epicor Software Corp., a provider of enterprise software solutions for midmarket companies, recently sold Smart Software Inc.'s SmartForecasts Enterprise to five companies in North America and Europe. Smart Software is a demand forecasting, planning and inventory optimization solutions provider.

The five firms said they would use SmartForecasts together with the Epicor eBackOffice and eDistribution modules of the "e by Epicor" enterprise suite to meet their distribution and inventory management needs.

Epicor said it resells SmartForecasts and has developed an interface that integrates it with Epicor eDistribution through Microsoft's SQL Server, providing customers with demand forecasts that can be shared with other Epicor applications to improve demand planning. Additionally, the product's inventory stocking level recommendations enable users to reduce inventory costs, improve customer service, and deploy production and distribution assets.

"The increasing adoption of SmartForecasts within our customer base is a testament to the growing need among midmarket companies for comprehensive forecasting, planning and inventory management solutions," said John Hiraoka, senior vice president of marketing and business development for Epicor. "Our customers need to be able to quickly react to changes in demand, while at the same time managing relationships with suppliers and customers."

Epicor customer, Institutional Financing Services, a California-based company that sells fund raising products and specializes in programs for elementary, junior high and high schools throughout North America and the Caribbean, recently purchased SmartForecasts. Most of IFS's sales are made at the beginning of the school year, between October and December. IFS said it is planning to use SmartForecasts to provide accurate demand forecasts and better inventory management.

"Because of seasonal swings in our business, forecasting is a big challenge for us," said Andre Brantome, IT director at IFS, Inc. "We need good tools to help us with forecasting our sales and product planning. We expect the product will help us better manage our business."

Charles Rivera, chief information officer at Florida-based Steiner Management Services, another Epicor customer using SmartForecasts, added, "We are looking forward to using SmartForecasts to understand our demand data in eDistribution better." Steiner's affiliates provide spa services and skin and hair care products on cruise ships worldwide, as well as at land-based facilities.

Other companies that have purchased SmartForecasts in conjunction with Epicor eDistribution include: Salts Healthcare, a U.K.-based manufacturer and supplier of healthcare products; The Lenbrook Group, a privately owned, vertically integrated Canadian corporation with core businesses in electronic components and two-way radio products; Residex, New Jersey-based nationwide distributors of pest control products.