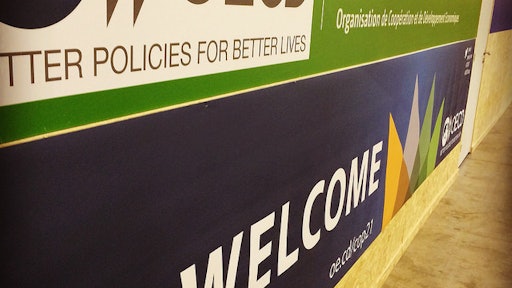 March 9, 2016—The global economy is set to slow over coming months, with growth weakening in most developed economies even as it stabilizes in China, according to leading indicators released by the Organization for Economic Cooperation and Development, according to The Wall Street Journal.
The Paris-based research body said its gauges of future economic activity—which are based on information available for January—continue to point to slowdowns in the U.S., the U.K., Canada and Russia, but now also suggest growth is set to ease in Germany and Brazil.
The leading indicators also point to stabilization in India and France, two countries that they had previously suggested were set for faster growth. Indeed, none of the big economies for which the OECD provides leading indicators is set for an acceleration. The one encouraging development was a further indication that growth in China, the world's second-largest economy, is set to steady.
The leading indicators' turn toward an even gloomier outlook for the global economy comes as little surprise after a difficult start to 2016, which saw financial markets tumble around the world on renewed concerns about growth prospects in China and elsewhere. But they do suggest that turmoil in financial markets may in itself have taken its toll on growth in 2016.
To read the full story, please click here.