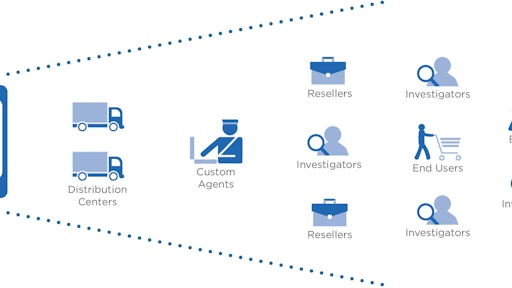 Systech International, a global leader in brand protection technologies, has launched UniSecure™, a universal brand and product protection solution that can uniquely identify and register any single manufactured product. It can then track that individual product throughout the supply chain and authenticate it at any point via mobile app anywhere in the world.
UniSecure does it by generating a unique identification signature from an existing print mark or data carrier, such as a barcode. That unique signature is then stored in the Cloud for future authentication using a mobile app.
Internationalization, outsourcing, e-tailing and the expansion of international trade zones have created enormous complexities throughout the supply chain and product life cycle. This has resulted in a rapid escalation of global counterfeiting issues, threatening consumer safety like never before.
The ability to uniquely identify and authenticate products is the only avenue for brands to mitigate these risks and drive value through product protection.
"Counterfeiters are becoming increasingly sophisticated allowing them to easily defeat current anti-counterfeiting technologies," said Bob DeJean, Systech's CEO. " The technology is a game changer because it enables brand owners to create a trusted engagement platform with consumers that can add and build upon a brand's value."
UniSecure capitalizes on unique characteristics that occur with all printers. No two labels or printed data carriers are identical. Printing is dynamic and affected by numerous environmental and other factors that combine to produce small-scale variations or "noise" in printed marks. These microscopic variations are random, unique and at a scale beyond the controllable resolution of printers – meaning they cannot be intentionally duplicated.
"It's as unique as a fingerprint or a snowflake. It can't be duplicated, so it can't be counterfeited. You simply cannot reverse-engineer the random vibration of a production line or the humidity in a factory on a given day; it can't be done," said DeJean.
UniSecure captures these microscopic variations, detecting specific measurable patterns, and generates an inherent, covert security feature from existing print marks.
In a pilot test, a leading printer manufacturer is using serialized 2D Data Matrix codes on product packaging along with Systech's technology to derive a unique signature from each package. The customer then uses Systech's mobile app with their security team to detect counterfeit goods entering the supply chain.
Jim Lee, Systech's vice president of product management explains that UniSecure leverages the existing packaging process with patented technology: "Systech UniSign™ captures the image of the print mark or data carrier. Once captured, a unique identifier known as a "UniSignature™" is derived and stored in our secure, Cloud-based UniStore™ platform."
Systech's UniScan™ mobile app (available on iTune App Store) can be used in the field by a company's inspectors. Once scanned, a product is cross-referenced against the original "UniSignature" to determine if the product is authentic or suspect in real-time.
This unique in-field scanning feature can ultimately be used by clients, sales reps, store owners and, consumers at point of sale, which opens the door to engagement programs.
For example, Systech is working with a precious metals manufacturer that is using the mobileapp with their supply chain partners and is also developing a consumer mobile app so they can verify the identity and authenticity of their products. This is critical in an industry where certification documents can be decoupled from the actual metals. Often, shady dealers will say they have an authentic precious metal, but the certificate has been lost. A new certificate is then issued against the metal, but the process is flawed. Now, however, that metal can be uniquely identified.
"The beauty of this product is that it is simple, effective and economical," notes Lee. "It delivers immediate authentication at a fraction of the cost of alternative solutions."
Currently, UniSecure is undergoing an additional pilot test with an Infant Nutrition supplier that is working on a consumer mobile application that will tie into a loyalty, product identity and rewards program.
"In an age of social media, companies are looking for innovative ways to engage directly with consumers at the time or purchase," said DeJean. "Clearly, the first step is to ensure the product is authentic. From there, you can provide guidance, information and suggest other products."
Moreover, UniSecure leverages existing packaging infrastructures and therefore does not require modifications to current production line or business process re-engineering.
It's also simple and scalable. Unlike other methods, UniSecure verifies without the need for proprietary readers. By authenticating through a mobile app, UniSecure facilitates scalable verification anytime, anywhere. Brands have flexible control over who has access to authentication such as specific parties within the supply chain like government officials, customs agents, resellers and even consumers.
"This technology took years to perfect and is a complete game changer in supply chain management and brand protection," said Bob DeJean, Systech CEO. "Not only can it prevent counterfeiting and supply chain disruption, it has tremendous potential in product recall situations, customer loyalty and consumer engagement as well. Just imagine, a consumer can scan the label of a product at point of purchase and the manufacturer can instantly start a dialog!"
Currently, Systech provides products and solutions to protect the brands of many of the world's leading pharmaceutical, consumer-packaged goods, food and beverage and life science companies.
"Demand for our supply chain solutions has exploded as the need for enterprise serialization, track and trace, authentication and regulatory compliance expands in adjacent markets such as food and beverage, retail and consumer products," noted DeJean.