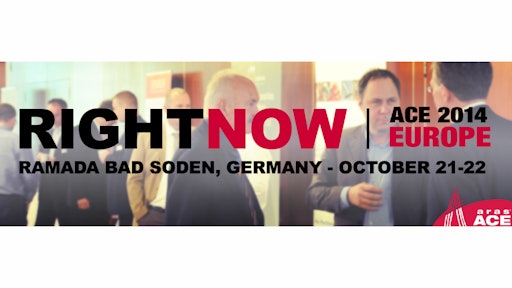 ANDOVER, Mass. and Munich, Germany—Sept. 26, 2014—Aras, a provider of enterprise product lifecycle management (PLM) software, announced that GETRAG, Imperial Tobacco Group, Consilium, Titan X, Kinnerton Confectionery, Hydrocontrol and several other Aras customers will present at the 2014 European Aras Community Event (ACE) in Frankfurt, Germany. Speakers representing a wide range of industries, including automotive, mechanical engineering, food, consumer goods and medical technology, will share their PLM strategy and demonstrate the success of their global Aras PLM initiatives.
ACE presentations Include:
Imperial Tobacco Group, the world's fourth largest tobacco company, will share its PLM selection process and strategy for a successful product life cycle introduction with agile methods.
GETRAG International, one of the world's biggest gearbox manufacturers, uses

Aras

Innovator and will show how the company is successfully optimizing processes in product development across the enterprise.
Kinnerton Confectionery, one of Britain's biggest confectionery producers, will present "Sweet PLM" and illustrate how the company accelerates the development of new products with

Aras.

Professor Martin Eigner from the University Kaiserslautern, Germany will report on the repercussions of Industry 4.0 (smart factory) on the PLM strategy of manufacturing companies.

Aras

CEO and founder, Peter Schroer, will highlight the importance of open technologies and resilient product lifecycle management.
Additional customer presentations include: Baltur (heating technology), Consilium (maritime safety technologies), Hydrocontrol (hydraulic components), Malvern Instruments (measurement technology) and Titan X Engine Cooling (automotive industry).
ACE 2014 Gold Sponsor T-Systems International will show how companies can launch PLM from the cloud quickly and easily. Rob McAveney, chief architect at Aras, will introduce the latest development projects of the Aras Innovator platform and present the Aras roadmap for future technological enhancements.
ACE 2014 Europe takes place October 21 and 22, 2014 in Bad Soden near Frankfurt, Germany. The theme of the conference is "Right Now," continuously accelerating product development, and ever-changing market requirements and trends. ACE 2014 Europe is free to attend, however, registration is required.
Companies in this article