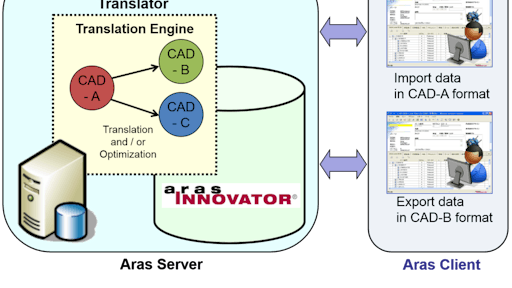 Andover, Mass.—June 26, 2013—Enterprise open source Product Lifecycle Management (PLM) software solution provider Aras partnered with Elysium Co. Ltd., a provider of 3D translation and optimization technology, to deliver advanced multi-CAD data translation and interchange for Aras Innovator. The partnership between Elysium and Aras is the result of joint recognition of global enterprises' growing need to improve 3D data interoperability and collaboration.
"By embedding Elysium's CAD translation technology in the Aras PLM platform, companies will be able to overcome interoperability issues and streamline data import to eliminate rework," said Masahiko Hisatsugu, President of Aras Japan. "Together, Elysium and Aras are making it easier to share and reuse critical product information throughout the enterprise and extended supply chain."
The solution will automate the conversion CAD data to other formats including CATIA; Creo; NX; JT; and SolidWorks to provide companies that run Aras with such embedded functionality for CAD data translation, geometry comparison and data optimization.
The joint solution will provide next generation PLM capabilities for global product development. These capabilities are especially important for businesses that operate a global multi-CAD environment with complex products that rely on high end 3D CAD systems which produce large assemblies.
Companies in this article