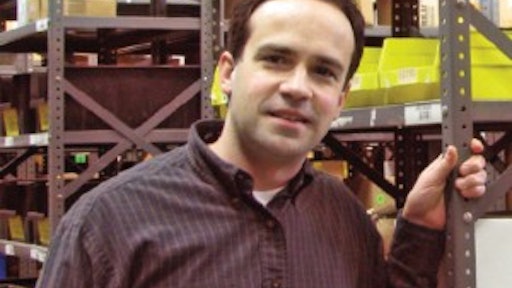 March 4, 2010 — Sometimes it's possible to have too much of a good thing. So discovered
Chris Jakubowsky
, vice president of operations at Royal Products, a Long Island, New York, manufacturer of precision metalworking accessories. In fact, the 60-year-old company was on a tear over the past decade, and that business expansion was threatening to make the company a victim of its own success.
"We've had the same customers coming back to us time and time again because we get them what they want, when they need it, when we say we're going to deliver it," says Jakubowsky. "But after evaluating our systems in the mid-2000s, we found that we were falling behind with the increased demands of our customers. We needed to fix the problem before it had a lasting impact on our business."
Inventory Accuracy a Barrier to Growth
As Royal Products' business expanded to processing hundreds of orders per day, keeping track of inventory and shipments became extremely challenging. "We knew that a key barrier to further business growth and expansion was effective inventory management," explains Jakubowsky. "Since we didn't have a fully integrated and automated system — one that could wirelessly manage all aspects of our warehouse in real time, from inventory management to picking to fulfilling — some customer orders were simply not being fulfilled in a timely fashion."
In fact, even finding and verifying a product was not an easy process. "If something was incorrectly put in a bin, often times workers picked it and shipped it, thinking the customer was getting the right product," notes Jakubowsky. "As a stopgap, we had workers manually locate and verify the contents of each bin before picking, but that just added to our overhead."
Moreover, this lack of real-time product accuracy resulted in the Royal Product sales team not trusting inventory levels. "Our customer service people would sometimes request a physical count on an item to verify that what they saw on their computer screen was accurate. This resulted in a longer sales process and often delayed orders," continues Jakubowsky.
Another downside: each order had to be individually processed — there was no way to batch-pick multiple items for an order. With an inefficient system and growing customer returns as a drag on business, the company knew it had to update its system and solve its inventory management challenge.
A High-tech Solution with High-touch Implementation
In a move to boost customer satisfaction and ensure lean manufacturing and distribution processes, Royal Products decided to invest in a warehouse management system (WMS) that could deliver real-time automation to its warehouse operations. After an extensive search, Jakubowsky chose PathGuide Technologies' Latitude WMS.
PathGuide, a privately held company founded in 1989, is a leading provider of warehouse management systems for small to midsize wholesalers and industrial distributors across North America. PathGuide says its software and services help suppliers increase productivity and order accuracy, improve customer service and lower labor costs, ultimately driving greater profitability.
The Latitude WMS is a modular software suite that automates warehousing and distribution to provide real-time online information about all inventories. It automates all operations from receiving and order picking to manifesting and truck route/stop management. Latitude WMS integrates with major enterprise resource planning (ERP) business systems from such companies as Activant, Infor, Microsoft and Oracle/JD Edwards.
"We chose PathGuide not only because they met every checkbox requirement we had, but also because they specialized solely in WMS solutions," says Jakubowsky. "Furthermore, PathGuide gave us the kind of personal, human attention that is rare these days."
That attention was reinforced during the implementation phase. Two PathGuide employees — a trainer and programmer — "embedded" themselves at Royal Products headquarters for a week. "The implementation process was as smooth as could be. I was amazed to see that in just one week, the product was launched and live, with no problems. PathGuide was there every step of the way to ensure it was a smooth, successful rollout," notes Jakubowsky.
Intuitive WMS, Bottom-Line Benefits
Despite Jakubowsky's enthusiasm, he had the tall task of convincing warehouse workers — some of whom had never used a computer before — that they would be able to easily use Latitude WMS. However, those workers' skepticism changed quickly. They found Latitude to be simple to use, laid out well and very intuitive.
"One of our warehouse workers is 80 years old and has lived the majority of his life without a computer," says Jakubowsky. "It was really cool to have him and others coming to me saying, 'How did we get by
without
Latitude?' Best of all, not only was Latitude easy to use, it made our workers more productive, while improving the accuracy and timeliness of customers' orders."
Latitude has brought new labor efficiencies to Royal Products by minimizing the time needed to pick warehouse items. It has also minimized the time spent checking inventory levels for the buyers and has allowed warehouse workers to implement other timesaving, inventory-maximizing processes, like real-time cycle counting, batch ordering and more.
In particular, Royal Products utilizes Latitude's Cycle Counting module on a regular basis to help maintain inventory accuracy. With Cycle Counting, schedules are easily developed to systematically verify that all item quantities are accounted for. By selecting subsets of inventory and counting them on a frequent basis, operations can continue as usual and misplaced items are quickly identified.
Guaranteed Shipments, Improved Customer Service
Before Latitude WMS, Royal Products couldn't guarantee a shipment would arrive the same day unless it was made by 3:30 pm. Now, they can take most orders up to 4:45 pm or even later for same day delivery — a substantial improvement for last-minute customers. This, coupled with more accurate orders thanks to Latitude, has resulted in a dramatic improvement in customer satisfaction and a decrease in complaints. In fact, since deploying Latitude WMS in 2005, Royal Products has experienced a 67 percent drop in customer complaints.
"It's been a business-changing decision to go with Latitude WMS, and it has dramatically improved both our customer service and internal efficiencies. It would be an understatement to say we're please with PathGuide — we're exhilarated," concludes Jakubowsky.