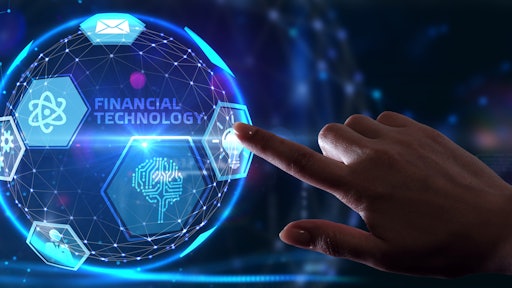 putilov_denis/stock.adobe.com
Business leaders with an eye on the bottom line know that managing costs can be key to maximizing efficiency, and more companies than ever are looking to procurement to help drive profit improvement, introduce proper corporate controls and steward corporate responsibility initiatives.
According to MarketWatch, the sourcing and procurement technology marketplace has continued to grow, with the procurement software worldwide market size valued at almost $7.8B in 2022 and expected to reach almost $13.8B by 2028.
The reason is clear. Spend analytics, or the process of collecting, organizing and analyzing spend data, is critical to procurement – and when done right, can help companies optimize their expenses. However, with the sheer volume of internal and external data that flows within an organization daily, procurement technology solutions – especially those that merge fintech with their platforms – can unlock important insights and significantly reduce costs.
But not all systems are created equal, and it's essential that leaders utilize the right data and platforms in order to maximize the potential benefits. When looking at procurement technology for your organization, consider four key areas before moving forward:
Move From Examining the "Why" of Your Spending to the "How" You Spend
It may have been enough for companies in the past to understand spend in terms of "how much," "with whom," "by whom," "when," and "where" their costs occur, but the right platforms should go deeper into spend analytics.
When choosing a procurement platform and finding ways to optimize the technology, companies need to consider another set of spend metrics that can shed light on "how" they are spending, and in turn, reveal true areas of opportunity to evolve process and policy, streamline procurement operations, drive cost efficiencies and improve profitability. For example, consider the Spend on a Purchase Order (PO). Executives should be looking beyond just whether a PO is created or not, and at whether the PO was created before the invoice date or after the fact, which provides a clearer view on the percentage of spend that was actually managed using a PO and reveals targets to further improve PO compliance.
Another example is Invoice Payment – where you can extrapolate data to detect and highlight potential issues with the invoice process – including payment terms variation (where invoice terms don't match contracted terms), payment cycle time, early payments (paying too soon, when the money could be working for you longer) and late payments.
In addition to digging deeper into internal AP metrics, there are adjacent pieces of information not typically included within Spend Data because they are managed outside and upstream from the accounts payable and expenses process. However, if this information is made available together with the Spend Data, this can reveal an additional set of metrics and insights about spend and sourcing efficacy. Keeping these metrics simple is critical.
Some examples of adjacent information to consider adding to your Spend Analytics are Spend Under Contract (provides visibility into whether your spend is with a supplier with whom you have a contract), Spend Under Management (indicates whether the spend is being managed actively by sourcing), Spend Sourced (goes one layer deeper and provides insight on whether the spend is being actively taken to the market by running and RFx or not) and Diverse Spend (highlights which suppliers are considered diverse, such as businesses owned and run by Women, Minorities, Veterans, LGBTQ, etc.)
Look For a Solution Built with Procurement in Mind, and Backed with Partner Support Vested in Your Interest
When evaluating and comparing technology platforms, make sure they are designed specifically with procurement in mind, as many technology solutions in the market are too complex, poorly integrated and require significant modifications to align with modern procurement needs.
When it comes to fintech integration into procurement technology, modern Source-to-Pay (S2P) software brings more intuitive and connected tools for PO management, invoice submissions, and catalog and rate card management, to name a few. This can (and should) all be on a single platform dashboard, allowing procurement access to a rich trove of data to conduct spend analysis, spend compliance and automation. In addition, spend analytics tools integrated into a modern procurement technology software can be designed to seamlessly draw spend data in real-time. Adding to the procurement platform data metrics that categorize spend, and include supplier and contractual data, can offer actionable views. The goal: to integrate all of these metrics in a seamless way that provides teams with a single source of truth to pipeline opportunities, track compliance and support corporate responsibility goals.
Additionally, look for a provider that can design from scratch the data algorithm based on your unique data and business needs…and that means the kind of support only a true human partner can provide. The use of artificial intelligence (AI) and machine learning (ML) for automation offers efficiencies and speed, but it is important and critical to the long-term adoption and success of the platform that there is a human-in-the-loop to ensure smooth and effective implementation and help the algorithm to learn and continuously improve.
Before Implementing, Get Everyone on the Same Page
While procurement technology can be a powerful tool in addressing cost opportunities in areas like indirect spend – an overlooked area of expense that can equate to 20% of annual revenue – traditional S2P technologies have underperformed and under-delivered. According to LogicSource OneMarket research, traditional S2P implementations have seen low adoption success rates – ultimately only 30% to 40% in most cases.
It is critical to secure buy-in from stakeholders across every level of your company prior to the procurement technology going live. Company-wide support and adoption is critical as the efficacy and performance of procurement platforms rely on consistent quality data input by the end users throughout the company. Only with holistic buy-in from across the company can the universal adoption of procurement technology be achieved, which in turn will result in better and broader spend visibility.
Celebrate Successes
There is no greater motivation than shared success. Leverage the analytics from procurement technology to deliver powerful KPIs that can be shared in business meetings and company-wide reporting. While procurement buying happens daily across many departments, it is often not top of mind to the larger corporate community.
Communicate widely within the organization how the technology has helped optimize spend and benefit the company as a whole. By celebrating the success of the platform, not only will you reiterate its value to leaders and decision makers, but you'll also reinforce user and end user commitment behind the platform.
Procurement technology, especially ones that merge fintech within their platforms, can unlock game-changing value for a company. However, to realize these benefits, it is important that company leaders do their homework on the solutions in the market (consider build vs buy), focus on the data and metrics utilized within the platform, push for human involvement behind the tool and frequently engage internally to ensure long-term credibility and use of the platform.