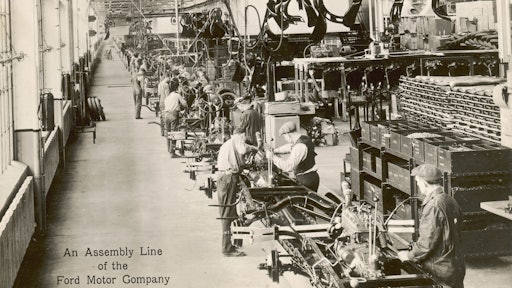 Archivist - Adobe Stock
The U.S. President's election is today, and in a year where manufacturing and supply chain have been disrupted and shown to be frail, little in the way of policy has been slated from either candidate. 2020 has been a tough year for the manufacturing industry thanks to the triple play of supply, demand and working practice disruptions brought about by the Coronavirus disease (COVID-19).
In March, President Donald Trump enacted the Defense Production Act to compel manufacturers to support the fight against the COVID-19 virus. And, so began a period where manufacturing and supply chains were in the media spotlight. Issues around supply chain dependence on China and the need to repatriate jobs to make a more vibrant manufacturing economy have pushed this issue toward the top of the political agenda.
Here's an outline of what the manufacturing industry wants, needs and expects from those driving the economy.
Be careful what you wish for
It's pretty clear that the United States shouldn't be trying to create Shenzhen in Saratoga, and when it comes to repatriating jobs the message is clear.
The manufacturing industry that the United States needs is not the same as that built by China over the past 20-30 years. It's something completely transformed, that leverages everything the this nation excels at and has the potential to lead the world.
Incentive digital transformation
Digital transformation is the solution. Creating a smarter automated manufacturing industry that is competitive and leverages innovation will allow the United States to create a level playing field with countries whose main advantage is low cost manual labor.
Investing in digital transformation is not a new idea, as the United States needs to become the world's smartest manufacturing region and connect their consumers and innovators to a digitally enabled manufacturing ecosystem that is the envy of the world. But, to do that, they need an environment in which they feel safe and confident to commit to long-term investment.
Consistency, collaboration and certainty
The manufacturing industry thrives on consistency. They invest millions of dollars every year and needs visibility into a future that has at least some degree of certainty. The pandemic has caused the largest disruption in many people's memory, but it comes on the back of the severe challenges caused by trade wars with China and the associated tariffs.
Solid policy, like 'Made in China'
All in all, those leading the industry want those leading the nation to provide the consistency, visibility, leadership and incentives to create a "Made in America" policy underpinned by the world's smartest manufacturing and supply chain ecosystem. These executives know what it takes to make this work; they just need consistent support and leadership to develop the industry they believe could be world beating.