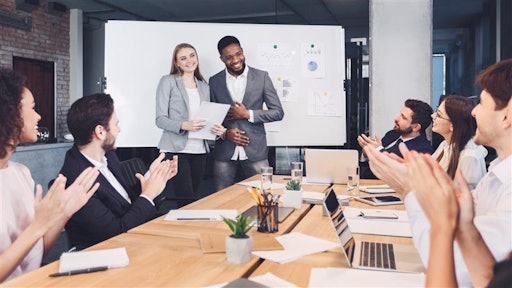 Adobe 36a88403-3f0c-4b05-a1ae-b4de56ab1eee
Manufacturers have faced seemingly insurmountable odds in the wake of the Coronavirus disease (COVID-19). The global health crisis has brought a whirlwind of change, uncertainty and ongoing disruption, leaving teams with labor strains, vacillating supply and demand, financial pressures and more.
Adjusting—and persevering—in this environment requires manufacturers to drive efficiencies and agility in new ways. Remember, we've innovated out of necessity before. Lean manufacturing was created out of the strain of World War II when companies were forced to improve quality and delivery and reduce costs during a time of radical change in customer demand. And, we'll innovate and optimize systems again.
Here are three ways manufacturing and supply chain professionals can optimize inventory decision-making in a world of constant turbulence.
Identify and prioritize your biggest levers for impact.
Inventory optimization is pivotal in turning the supply chain from a cost center into a competitive weapon. There are always fires to put out. However, especially during a time of disruption, identifying and prioritizing your biggest points of impact can help you understand where to shift your focus. Which shortages or excess inventory impact your business the most? Tackle those first.
While addressing shortages can speed production and avoid late delivery costs, eliminating excess and obsolete inventory can free up cash. Some supply chain leaders have been given directives to tackle priorities on both ends of the spectrum. With improved visibility into how each part impacts the overall business, factory and site leaders can develop a plan of action to prevent missed deliveries or late penalties, while also ensuring they have the right parts on hand.
While you consider your own priorities, don't forget about your suppliers—otherwise you may be burdening them with inaccurate delivery requests, further driving up your excess inventory. Monitor supplier performance and communicate your prioritization plans so they can be collaborative partners in helping you achieve your goals—including reduced days of inventory and happier customers due to better on-time delivery rates.
Empower your teams to do more with less.
Acting on business-critical priorities is easier said than done when you're also dealing with labor shortages, rotating furloughs, and Zoom calls with remote workers who may be using disparate data. While Excel can be a useful tool for enterprise resource planning (ERP) users to run small-scale analyses, the approach creates a huge risk of error, is manual and time-consuming and doesn't provide context or accountability around buying and planning decisions.
Many factories have used the global economic and health crisis as the impetus for obtaining much-needed visibility initiatives into all their sites. In fact, 87% of supply chain leaders have a digital transformation initiative. But, the most advanced supply chain teams are going a step further and using this visibility, and the technology in creative ways, to drive tangible outcomes, attack their biggest inventory problems and empower teams with automation and artificial intelligence (AI) to proactively prevent future disruptions.
In response to COVID-19, supply chain leaders have come up with creative ways to leverage their technology, coming up with "attack teams." Comprised of buyers and on-site procurement leaders, and supported by advanced analytics, these teams triage priority inventory management tasks, so the right people are focused on, and are held accountable for, the most impactful shortage reduction and inventory optimization goals for their businesses. The ability to communicate and move in the same direction frees up time for teams to focus on revenue-building initiatives instead of figuring out which spreadsheet is correct.
Re-tune your plan for every part to safeguard against future disruption.
Calibrating order policies, trigger points and safety stock to demand helps companies "stay healthy" when a new disruption arises, ensuring that your organization's buying strategy matches today's situation. Re-tuning your plan for every part (otherwise known as PFEP) is the equivalent of giving your supply chain a multivitamin.
Historically a time-intensive and manual process, especially when data is pulled from multiple disconnected systems, PFEP is typically tackled once a year, but it should ideally happen more regularly. With the right automation, updating your PFEP to right-size inventory can happen in real time, so when disruptions hit, you can pivot overnight.
Even if your inventory management process today is manual, take the time to ensure you have a PFEP that takes into account today's supply and demand realities. First, look at your safety stock levels for each site. If they're risky, ask yourself if you've set the safety stock to a level that will cover a potential disruption. Next, review and adjust order policies to ensure you're at the optimal inventory levels to free up cash, and check that your minimum order quantities are sized properly based on real-time demand. Plan to refresh and implement your PFEP once a month while disruption persists.
Overcoming supply chain disruption—we can do it again.
COVID-19 has created massive supply chain gaps: furloughed teams, inaccurate forecasts, order cancellations and more. With many experts believing the end of the pandemic is still months or years away, the next supply chain shock could be just around the corner.
While you can't plan for the unexpected, you can position yourself for resiliency and agility as you ramp back up your operations. The moves we make today toward a technology and teams-driven approach to inventory management will set the stage for the next wave of agile factories and resilient supply chains. Those who lead the wave in innovation during challenging times will come out of a crisis stronger and be better positioned to handle whatever disruption strikes next.