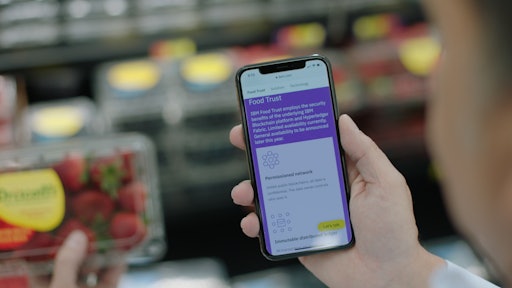 IBM
For generations, consumers have enjoyed a close bond with their food purveyors. Our grandparents knew their local fishmonger, their local butcher, even the milkman. But, over time, as food supply chains became increasingly vast and complex, shopping has become a more impersonal affair.
Today, the notion of a personal human connection at the grocery store feels like a quaint relic from a bygone time. Undoubtedly, we've gained tremendous benefits and conveniences through the evolution of the modern supermarket, but what have we lost in the process?
Even as culinary movements like farm-to-table become de rigueur in dining rooms around the world, consumers as a whole have never been farther removed from the people who cultivate their food. On one hand, with so much choice and variety, is it really feasible in this day and age to know the farmer behind the grass-fed Wagyu? But, at the same time, with labor becoming largely invisible, how long before these skilled workers begin to wonder, "What's the point?"
Fortunately, blockchain technology aims to spotlight the work of food artisans and reconnect them to the consumers who enjoy their products. In mending that severed connection, the goal is to not only ensure a future for high-quality, local food purveyors, but to also ultimately empower producers and consumers alike by engendering a more equitable and transparent food supply chain.
For seafood purveyor like Raw Seafoods, for example, blockchain addresses a myriad of pressing challenges.
"I have these wonderful boats and great crew and we're doing everything right out there and nobody knows. Does it matter?" Daniel McQuade, Raw Seafood's vice president of marketing told the Cape Cod Times.
His conundrum echoes the adage about the tree that falls in a forest with no one around to hear it – just swap out the tree with pristine New England scallops. Using blockchain, Raw Seafoods is able to record the granular details that set their product apart, from the precisely calibrated temperatures that keep their scallops fresh, to the name of the ship captain who pulled the mollusks from the water.
That information is stored on a tamper-proof digital ledger that shoppers can access by scanning a QR code affixed to the scallops' retail packaging. Though it's not exactly the same as a personal rapport with a fishmonger, it's a step in the same general direction.
Purveyors can also annotate ledger entries with video footage of the catch along with cooking recommendations for consumers and chefs.
What's more, the platform serves a vital marketing function. By providing consumers with verified information, Raw Seafoods hopes to dispel "the fear of fish" – a phenomenon that sees Americans eat about 16 pounds of seafood per year to the nearly 300 pounds of beef and chicken they consume over the same period.
Raw Seafoods isn't the only food purveyor leveraging blockchain to create a more efficient and transparent supply chain. In France, fine foods producer Labeyrie is using the same technology to improve the traceability of its smoked salmon. In Italy, Gruppo Grigi is leveraging blockchain to trace the provenance of its pasta, which is still produced using traditional bronze-drawn techniques. Other foods tracked on the blockchain include coffee and olive oil.
The products these companies create and the methods they employ often originate in different centuries than the cutting-edge technology that may help preserve them for future generations. And yet, it seems artisanal foods and blockchain are as natural a pairing as peanut butter and jelly.