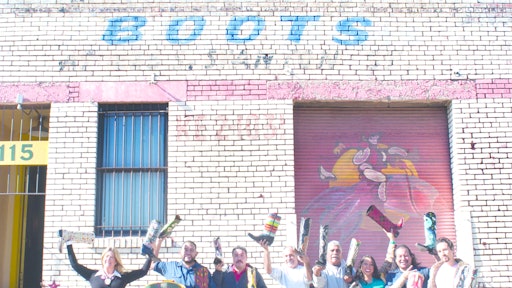 In Texas, some of the best business deals are still made on a man's word and a handshake, and yes, even a little tequila on occasion. One such deal was made in 1989, in El Paso, Texas.
Marty Snortum was a photographer who had a passion for classic, vintage style cowboy boots. One night at a local bar, Marty ran into an acquaintance he knew who owned a floundering boot company named Rocketbuster Boots, which the man had named after his Oldsmobile Rocket 88. Marty had a 1953 Cadillac hearse at the time, which after a few drinks became the enticement for this gentleman's deal.
Just like that, Marty's passion for bringing classic cowboy boots back in fashion became a reality. He traded his Cadillac hearse for the Rocketbuster name, two skilled craftsmen and a couple of sewing machines.
Today, the husband and wife team of Marty Snortum and Nevena Christi are the proud owners of Rocketbuster Handmade Custom Boots. Thanks to them, the art of classic cowboy boot making is alive and well in America.
Telling a Story On a Pair of Boots
You can't help but notice the distinct and funky brick warehouse on Anthony Street in downtown El Paso. It stands alone with "Rocketbuster Boots" painted above the loading dock and unassuming entrance door.
One step inside, however, and the scene is vibrant and exciting. There are neon signs, pinball machines, giant aliens and other whimsical pieces that make working at Rocketbuster a happy, creative and motivating environment. The artists and craftspeople are held to a very high standard for creating one of a kind, wildly artistic, hand-tooled and hand-stitched leather boots. Rocketbuster Handmade Custom Boots produces only about 400 boots a year. Every pair of boots is created completely by hand, in line with traditional boot making techniques.
Today, Nevena Christi runs Rocketbuster single handedly. Years ago, Christi, who studied design in Europe, left a successful fashion career working for Nicole Miller in New York City. Fate brought her to El Paso in 1995 when she was working on a runway show. The show needed Rocketbuster-style boots; she met Marty; and life was never the same.
Christi left the swankiness of New York City for the much slower-paced desert town of El Paso. She brought her high energy, New York City flare, along with her fashion knowledge and design skills to Rocketbuster and hasn't looked back. On most days, Christi is in her office designing the intricate and outlandish boots that customers are willing to wait months for. No request to tell a story on a pair of boots is ever turned down, and it is what makes Rocketbuster Handmade Custom Boots different from other boot makers.
When asked about competition, Christi replies, "We don't have any competition. We have a six-month waiting list. Nobody is doing what we do. Our customers know we are going to make them what they want."
Keeping a Lost Art Alive
El Paso, Texas is the boot capital of the world and home to world-class boot makers like Lucchese, Tony Lama, J.B. Hill, Caboots, Mingo, Tres Outlaws and others. All told, about 49 boot makers are located in El Paso, according to the El Paso Regional Economic Development Corporation (REDCo). Second and third generation boot makers make up this skilled labor force, who use their skills and expertise to create some of the most beautifully handcrafted boots in the world.
At Rocketbuster, employees are cross-trained to do different jobs. The art of boot making has to be practiced. Yet, it's an art that is finding it hard to attract new craftspeople.
"El Paso is the boot making capital of the world as far as cowboy boots. It's so essentially American," says Christi.
At the same time, the craft is losing the keepers of the art of boot making, while supplies are dwindling and manufacturers are outsourcing to China.
"We need to keep this in El Paso. It's unique to El Paso," she says.
Today, a lot of traditional cowboy clothing and footwear is manufactured overseas. Cost increases are a primary driver in moving production to low-cost countries. But, there is clearly a demand for quality, hand crafted boots that are made in America, and customers are willing to pay a premium for them.
Rocketbuster boots start at around $900 and can easily reach into the thousands of dollars. Customers ranging from CEOs to politicians to celebrities, to everyday people who appreciate high quality and unique boots, do not mind paying more for something so historically grounded in American culture.
How important is it to Rocketbuster, and it's customers, that the boots are made in America?
According to Christi, "It's absolutely important! Cowboy boots are an essential part of American art. It would be a pity if all that were lost. We are helping keep a tradition alive."
Cynthia Y. McCann is a Los Angeles-based photojournalist, whose work has appeared in several B2B supply chain journals, including World Trade WT100 and Food Logistics. Her artwork appeared on the front page of The Los Angeles Times as part of the newspaper's coverage of the Surfin' Hermosa art exhibit in 2004.