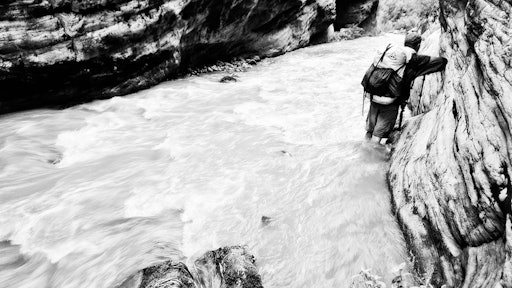 After soaring with the Eagles as the band's sound engineer and sizzling as a chef in one of New York City's top kitchens, Mike St. Pierre responded to the call of the wild. The avid outdoors enthusiast, who hiked more than 30 miles in the Adirondacks every weekend in a quest to escape the hustle and bustle of the city, found he couldn't purchase necessary gear because it simply didn't exist. It was out of this dissatisfaction that Hyperlite Mountain Gear was born.
"I'd been looking for ways to lighten my load, especially with the limited time I had on weekends to get out there. Everything I found was overbuilt, and simply too heavy," he says.
But St. Pierre stresses that when you carry everything you need for three days on your back, every ounce matters. This wilderness man found himself modifying children's book bags and other pint-sized products to shave weight from his pack. "I figured there had to be a better way," he laments.
Then he discovered Cuben Fiber, a super-strong material used in sailcloth and manufactured in the United States by Cubic Tech Corporation, which is now owned by DSM Dyneema. "The material is basically a sheet of plastic created out of the strongest fibers in the world," he says. "These fibers are 15 times stronger than steel by weight, are stronger and lighter than Kevlar, and don't lose their technical integrity when folded or crinkled."
St. Pierre ordered $500 worth of the plastic laminate, commandeered every sewing machine his family owned, and converted his NYC apartment into a sewing room. Here he created a shelter, tarp and lightweight backpack for his personal use. It was on his first trip into the mountains that he discovered he'd crafted something others might want too.
A park ranger concerned that St. Pierre lacked enough supplies for a 60-mile weekend asked to see the contents of his pack. "I had to empty all my gear on the trail head to prove I had the supplies I needed," he says. "That's when I knew I was on to something."
With a head full of innovation and a heart full of passion, St. Pierre quit his job and headed back to Maine, where he and his brother, Dan St. Pierre, the company's cofounder and CFO, began hammering out a business plan, financial models and eventually building products.
That was in 2009. Today business is booming. The Biddeford, Maine, manufacturer now employs 30 employees and has products in some of the most rugged outdoor settings across the globe, including Colorado, the Pacific Northwest, Asia, Europe and New Zealand. "We've been doubling in size every year," St. Pierre says.
Opportunities Found Onshore
Exploding growth along with a commitment to keep its manufacturing in America, created a few challenges for the outdoor gear manufacturer. St. Pierre, the company's CEO, explains that besides for a need to design and develop products fitting outdoor enthusiasts' exacting needs, the company also had to find and train the next generation of textile employees; a group of workers he says are often in short supply.
"There's a generation gap created by the overseas outsourcing of American manufacturing over the last 20 to 30 years," he explains.
The shortage of skilled labor has impacted this startup adventure from the get go.
At one time, the textile mills along the banks of the Saco River bustled with activity, weaving a livelihood for those who lived there and crafting a community of workers known for their strong work ethic and innovative production skills.
St. Pierre knew this history and felt it made Biddeford a logical place to locate. "We knew we were going to need sewers and assemblers," he says. "This place had a deep history in textile manufacturing, and I thought I might find the remnants of some of the [old] sewers in the area. That wasn't quite the case."
While the city's historic mill district did offer up approximately 5 million square feet of manufacturing space in what was once one of the largest textile mills in the country, the sewing workforce had long since unraveled.
"Nowadays we have to train new hires to work with these materials; and it takes about three months to get people up to speed," he says.
He explains stitching or bonding together Cuben Fiber is a vast departure from working with woven fabrics. Using straight sewing techniques on this material creates what he calls a "postage stamp effect" along the stitching lines, which can lead to premature wear patterns along high stress areas in the products.
"Early on we had to find better bonding techniques," he says. "We looked at the sailing industry to see how they handled this issue, and we came across special tapes and adhesives that allowed us to build these products with seams that were stronger than traditionally sewn seams."
Solving these challenges built the case to keep this company's manufacturing onshore. St. Pierre explains moving manufacturing to an overseas "cut and sew" shop put the quality of their products and their proprietary knowledge into the hands of others. "We developed all these techniques, so why would I want to give all that up to a contract manufacturer overseas?" he asks.
"We believe Made in the USA is a worthwhile endeavor that benefits our customers, our company and the community where we do business," he continues. "Our employees are highly skilled craftspeople who care deeply about the quality of their work. Our repurposed mill building is part of a successful effort to revitalize the local economy, fueled in part by small companies like ours."
The Wild Side
Siting the company in the heart of Maine's wilderness versus overseas also keeps quality high. It allows HyperLite Mountain Gear to fulfill its mission of delivering quality, durable and ultra-lightweight products to outdoor enthusiasts.
"We believe it is critical that our gear be designed and built in a place that is relevant to its end use," states St. Pierre. "Maine is full of mountains, forests, trails and rivers … it's the kind of place that inspired us to found this company … the kind of place that now serves as our test lab."
The company's location allows Hyperlite Mountain Gear to engage in real-world product testing to fulfill quality requirements. St. Pierre is the first to test every new product, which he brings out on the trail, then modifies and takes out again until he's satisfied with the design. At that point, every product goes to a team of quality control ambassadors, which includes notable mountaineers, nature photographers, hikers, climate scientists and more across the globe, for rigorous testing in other uses and other climates.
"The ambassador team uses our products for weeks to months at a time," he says. "When we get the products back, we look at how the product held up overall, and modify it further."