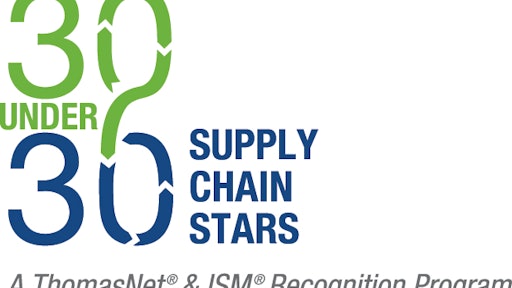 Las Vegas—May 12, 2014—ThomasNet.com and Institute for Supply Management (ISM) last week announced a new partnership to spotlight those Millennials whose initiative, collaboration, innovation, and/or leadership are strengthening the purchasing/supply chain management industry. The organizations launched their "30 Under 30 Rising Supply Chain Stars" Recognition Program during ISM2014 here.
"We have created this program at a pivotal moment for the supply chain segment, which is gearing up for a generational shift as Baby Boomers retire. By the year 2025, members of today's Millennial generation (18-32) will comprise about 75 percent of the workforce," said Mark Holst-Knudsen, President, ThomasNet. "This program is a way to encourage and honor those dedicated and creative professionals who represent the future of their industry."
Tom Derry, CEO of ISM, added: "Every day, supply chain management and purchasing professionals make decisions that affect their companies' brands, competitive positioning, and bottom-line performance. Being able to have such an important impact makes supply chain management particularly rewarding. This group of outstanding young leaders can help influence one of the most strategic and dynamic careers in the global economy of the 21st Century."
The ThomasNet/ISM program will showcase 30 Millennials who are 30 or younger, and who already have had notable accomplishments. Contributions to their companies, professional associations, and the industry at large will all be considered. Examples include outstanding achievement, exceeding goals, creating or improving processes, and more.
Each of these young professionals will receive complimentary membership in ISM for one year. One "megawatt" professional from the group, along with his or her nominator will receive an all-expense paid trip to ISM2015 to be held on May 3-6 in Phoenix. Through the knowledge they gain from ISM programs, these young professionals will be empowered to make an even bigger difference within their organizations.
Individuals can nominate deserving young professionals by going to www.thomasnet.com/30under30. Self-nominations also are encouraged. The deadline is July 31, and winners will be announced in the fall. All nominees must be 30 or younger as of Dec. 31, 2014. The 30 under 30 Facebook page is at https://www.facebook.com/SupplyChainStars.
Companies in this article