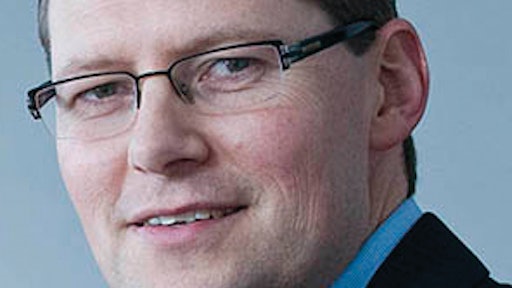 Growing companies often consider two options when implementing or revamping their supply chain management (SCM) operation—hiring a consulting company to work with their in-house SCM team, or buying specialized software and going it alone. Consulting firms deliver strategy and process improvements, but leave the customer to execute and sustain the new process, while software companies sell new supply chain capabilities without executing and driving its adoption.
A new alternative is now possible for companies, especially those looking to gain a competitive advantage with their SCM operations.

The case for working with a strategic partner that can go beyond implementing a new tool and designing new processes to actually drive, execute and sustain a company's supply chain has arrived. Every company is looking to improve its time to value. The traditional notion of a three- to five-year transformation program is not practical in today's fast-paced environment.
Improvements need to be achieved in months, not years, a reality that can only be realized through a managed services partnership in which the only measure of success is tied to the operational improvements resulting from the program. While many supply chain executives have never seriously considered managed services as an SCM option due to liability, performance or security risk concerns, this is indeed an economical, efficient and strategically viable solution that supply chain leaders should consider to deliver operational performance.

Is SCM a Core Competency?

Many organizations with established SCM operations have been working with third-party logistics firms for decades, largely eliminating the use of in-house transportation fleets. Looking at it today, hiring, training and providing equipment for in-house transportation teams makes little sense as this function is not a core competency of a typical company. A similar trend emerged in the electronics manufacturing sector. In the early '90s, high-tech companies sought scale and cost advantages through outsourcing manufacturing. Today, starting up a high-tech manufacturing operation is economically unviable.

Over that same period of time, however, many non-manufacturing supply chain functions, such as inventory management, forecasting and supply planning have remained in-house. Given how rapidly the world of SCM evolves, organizations that maintain an in-house team need to keep up with this pace of change, and add new capabilities to maintain or increase their supply chain performance.

One of the biggest barriers SCM executives face when trying to improve their supply chain performance is up-skilling their talent to maintain the required supply chain expertise in house. It is often the tribal knowledge of the company, the industry, its products and operations that make refreshing talent a challenging undertaking. Maintaining this in-house experience is often a trade-off for building and growing core supply chain talent, as they are perceived to be mutually exclusive.
Many companies resort to consultants when they have reached the limits of their own ability to bridge the talent and process gaps. While this has a fair chance of improving the short-term situation, it does not address the longer term question: Is supply chain a core competency?

Supply chain executives need to determine whether these supply chain functions are truly a core competency in their overall business. Take, for example, a typical medical device maker that has a laser focus on research and development (R&D), product design, and the goal of delivering innovative products that meet and exceed the expectations of its customers. Does a company fitting this description have the focus and priority to dedicate the resources they need to inventory management, forecasting and supply planning?

The answer is evident almost immediately when discussing SCM with these firms. They are questioning their core competency as they are challenged to address the perils of supply chain execution, directly or indirectly affecting customer satisfaction.
The Talent Make vs. Buy Decision
Partnering with a service provider for core supply chain functions is a decision that should not be taken lightly. Much like in the first waves of outsourcing in logistics and manufacturing, the drivers for outsourcing need to be aligned with the strategy of the business. First, clearly identify the supply chain strategy, and how supply chain is or needs to be a competitive differentiator. Once this is clearly defined, it is easier to consider the core competency question, or the make vs. buy decision. The answer leads you down the path of evaluating the three dimensions of people, process and technology.
The emergence of cloud-based technology solutions is providing companies with opportunities to acquire capabilities that may have been too costly before. Rather than having to invest in a hardware and software technology stack, SCM solutions can be virtualized where the physical infrastructure required to manage and use software is no longer required.
Process excellence and continuous improvement have been around for a long time. Process discipline, however, tends to be grounded in the culture of the company. When supply chain performance lags, driving the process improvement from within or looking for an external catalyst is part of the make vs. buy decision.
Lastly, there is the talent question, which is probably the most difficult question to address. There are no shortcuts and no easy answers. And until recently, no real options.

The business process outsourcing (BPO) industry is answering the cost part of the equation. Repeatable, prescriptive, transactional functions can be outsourced to a BPO provider to achieve a lower cost of operation. For more complex functions, such as forecasting, inventory management and supply planning, in which skill and experience are the driving factors for success, the make vs. buy decision centers around the investment in talent. Managed services can be the "buy" answer, and should be considered if the patience and commitment to talent management is not core to the business.
What to Look for When Choosing a Partner

To help determine whether it is viable to work with an external third-party service provider to redesign and reengineer your supply chain, executives need to determine whether they can effectively support critical SCM functions in house or whether the resources can be better deployed elsewhere.
If a supply chain executive decides to outsource his or her SCM function to a third-party services provider, he or she should look for a partner that can provide both supply chain expertise and a technology platform that complement each other. A third-party services provider should be able to help supply chain executives manage their SCM operation, from planning functions down to execution.
While the right partner has this end-to-end capability, executives should evaluate which areas of supply chain require the most immediate help to start the engagement with a managed services provider. With a specific focus, improvements can be quantified and a trust-based relationship can be established. The engagement should be focused on achieving operational results with a managed services partner who is responsible for designing and executing the SCM function.
And finally, SCM executives should look to a strategic partner that has demonstrated SCM services across a variety of manufacturing industries. Cross-industry experience is important when choosing any managed services provider, but this is particularly true in the supply chain services realm as companies can greatly benefit from the work and experience already put into practice in other successful supply chain implementations across industries.

More supply chain executives are seeing the potential of working with a SCM services provider to help them manage one or several of their supply chain functions. Just as they would for any area of their business, they need to determine whether SCM is a core competency and how it aligns with their company's long-term strategic direction.