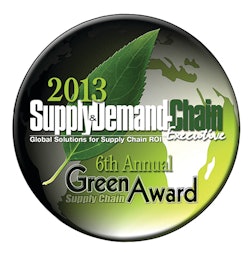 As we unveil our sixth annual Green Awards, we once again recognize leaders that are forging ahead with a range of sustainability initiatives having a direct impact on the supply chain. The awards highlight companies that are making sustainability a core part of their businesses and supply chain strategies. And they have the results to show for it.
About 100 submissions were received through an open nomination process. The magazine's editorial staff reviewed the submissions based on clarity and content of the goals and strategy, the extent of the steps being taken, and the impact of the results to date. The recipients of the 2013 Green Supply Chain Awards are listed below, along with summaries of their projects.
Featured Leader PITT OHIO: Focusing on the Three Ps
Growing from a less-than-truckload (LTL) business in 1979 to a transportation solutions provider, this Pittsburgh-based company lives sustainability, and it begins in the boardroom with owner and president Charles Hammel. "His vision is that it's the right thing to do and it makes good business sense as well," says Justine Russo, manager of market research for the company.
PITT OHIO (www.pittohio.com) does that with its commitment to the three Ps: people, planet and profit. They all play a role, but for our purposes today, let's concentrate on commitment to the planet.
The company implemented a carbon calculator to measure and understand its greenhouse gas emissions. It tracks and breaks down the emissions by vehicle type and source, such as electricity, to understand where the company is improving and where more work is needed. In 2013, PITT OHIO also began pilot programs on compressed natural gas (CNG) hybrid tractors, implemented solar at one of its facilities, and implemented trailer racks and skirts to improve efficiency and miles per gallon.
In addition, drivers are trained to eliminate excess waste and pollution with proper shifting, speed and no idling procedures. Each of PITT OHIO's facilities recycles all waste and paper, as does the corporate office. All facilities, including corporate offices, terminals and vehicle maintenance shops, were retrofitted with energy-efficient appliances and lighting, and water conservation equipment.
Now, meet our other Green Award winners.
Basware (www.basware.com) aids companies working to become more eco-friendly and reduce their carbon footprint by reducing the voluminous amounts of paper consumed throughout their organizations. Paper invoices and related documentation can amount to hundreds of thousands of invoices annually for many companies. A large UK pharmaceutical chain is using Basware's e-invoicing solutions to process many of the 1.2 million invoices it receives annually. It is in the process of moving to a completely electronic invoicing system that is on target to save more than 419 trees and 3.5 million pieces of A4 paper each year.
Cass Information Systems (www.cassinfo.com) solutions accelerate the amount of electronic interchange between customers, their freight carriers and the company itself. The direct result is a significant reduction of paper transactions in the areas of shipping documents, billing (freight invoices), payment transactions and information delivery. Cass also digitizes customers' transportation tariff and rate data to provide an easy-to-use centralized repository for their freight rate information, again eliminating paper requirements. Right now, more than 99 percent of Cass payments and remittance advices to carriers are electronic.
CaseStack's (www.casestack.com) internal programs that are used to measure the green aspects of its supply chain include the Delivered Green Program, which recognizes carriers who use green features while accomplishing their daily business operations. The program recognizes carriers who employ sustainable and energy-efficient supply chain management practices. Carriers must meet several criteria to qualify for the program, including engine modifications, alternative fuels, tire and body modifications, and industry and/or governmental certifications. After a beauty care supplier began participating in the program, its damages went down by $86,000 and shipping costs fell from $1.2 million to $630,000, a savings of 42 percent.
DiCentral (www.dicentral.com) solutions enable a seamless and paperless exchange of data throughout the entire supply chain, creating a green communication stream from source to last mile. DiCentral's integration solutions are scalable to the size, growth and unique requirements of each business. In addition, DiCentral develops and markets a complementary suite of supply chain applications for retailers and suppliers, therefore extending the green nature of its business across the supply chain.
DSC Logistics (www.dsclogistics.com) applies its efforts in three strategic areas: supply chain network modeling and design, logistics center management, and transportation management services. One customer, a lean organization focused solely on one product, rarely shipped to East Coast ports from South America, and never managed product by regional distribution center, shelf-keeping unit (SKU) and quantity. DSC collaborated with the customer on a detailed solution. DSC redesigned the supply planning process, network and warehousing system to expand shipping from South America to both U.S. coasts and multiple locations. The new system saves the customer an estimated $1 million in transportation costs, and reduced energy and fuel use.
eZCom Software's (www.ezcomsoftware.com) streamlined electronic data interchange (EDI) solution, Lingo, has a positive impact on the sustainability of subscribers' supply chain strategies. The streamlining and efficiencies that the automation of the trading process provides lead to more streamlined inventory management, and packing and shipping processes, as well as a significantly reduced clerical effort. Lingo's automated document system conserves overall energy and use of resources throughout all stages of the order management process.
Inmar (www.inmar.com) is enabling manufacturers and retailers to reduce paper consumption by increasing the distribution of digital coupons. This reduces transportation and the resulting carbon footprint. Inmar's remarketing services kept 117 million pounds of grocery and consumer goods out of landfill in a single year. Additionally, its donation program on behalf of clients provided 1.8 million boxes of food product that were used to create 5.5 million meals for the needy in a year. Sustainability initiatives through the company's One Touch Advantage program further helped convert more than 2 million pounds of waste to energy, saving more than 979 barrels of oil and generating renewable energy to power 48 homes for one year.
A recent ModusLink (www.moduslink.com) project with a national mobile phone provider was facilitating a sustainable packaging redesign, while achieving cost savings and maintaining the quality of the product during transport and delivery. Because the legacy packaging consisted of back-end stock boxes rather than consumer-facing material, there were no labels (and thus no printing processes) that ModusLink could immediately eliminate. Instead, ModusLink looked to more innovative solutions, beginning with the edge crush test (ECT) for the corrugate used in the boxes. ModusLink was able to increase the ECT measure of the packaging, strengthening it to the point that the use of bubble wrap was almost eliminated. The majority of packages now require no bubble wrap and the client reduced its use by 83 percent.
NeoGrid (www.neogrid.com) recently bought 250 trees in a tree replanting area project, which offers a sustainability network that is also available via the Internet in English at www.curupira.com. Moreover, Brazil office spaces are consolidated to maximize usable space, and minimize utilities for heating and cooling. Batteries and paper are recycled, and rainwater is used in bathrooms to reduce water usage and the need for processing. NeoGrid also offers a variety of solutions that facilitate green supply chain management, ranging from pure electronic transfer of information to optimizing and maximizing the efficiencies of product shipment based on demand at the consumer level. In the last 12 months, 350 tons of paper usage was eliminated through its electronic invoicing solution, the equivalent of saving about 4,000 trees.
Nipendo (www.nipendo.com) provides a cloud-based platform that enables organizations to automate their entire procure-to-pay process. Nipendo customers are able to replace paper transactions with electronic and digital communication throughout their entire supplier base. Organizations that use the Nipendo Supplier Cloud platform eliminated more than 90 percent of all paper-based communication with their suppliers. One example is Clalit Health Care, one of the world's largest health maintenance organizations (HMOs), which eliminated more than 30 million sheets of paper each year.
Penske Truck Leasing (www.pensketruckleasing.com) worked with an automotive company's European customer service division to help optimize its spare parts supply chain, enabling collaboration for multiple car brands across Europe. The solution integrated inbound and outbound spare parts shipments, and linked the supply chains of participating car brands to create a collaborative logistics network. It is estimated that the collaboration reduced more than 10,000 tons or 17 percent of carbon dioxide per year based on an assumption of 750,000 shipments annually. Penske is also expanding its fleet of natural gas-powered vehicles, so its customers now have access to some of the most environmentally friendly trucks available in the industry.
Saddle Creek Logistics Services (www.sclogistics.com) invested in CNG vehicles for its for-hire fleet and constructed a $2.2 million facility at its Lakeland, Fla., campus to fuel them. CNG trucks utilize one of the cleanest-burning alternative fuel options available with near-zero emissions. Natural gas-powered vehicles produce 95 percent less particulate matter than comparable diesel vehicles. The fleet reduced Saddle Creek's carbon footprint by 11.4 million pounds this year alone, equivalent to planting 85,760 trees. The CNG vehicles are also significantly quieter than their diesel counterparts. When idling, the entire fleet of 100-plus alternative fuel tractors produces approximately the same decibel level as 10 diesel trucks.
SciQuest (www.sciquest.com) helps companies source and maintain relationships with sustainable suppliers, and promote green products through its Sourcing Manager product, which allows green and sustainable criteria to be factored into sourcing events. Arizona State University (ASU) worked with SciQuest to implement a rigorous sustainable procurement strategy. The program is cross-departmental, and green purchasing practices are required for every sector of the university, including energy, water, custodial, grounds, buildings and recyclables. Through the university's commitment to sustainability, a huge part of which is sustainable purchasing initiatives, ASU achieved great success in reducing its environmental impact.
SYSPRO (www.syspro.com) was one of the first companies to pioneer a green solution when, in 2003, it introduced the SYSPRO Material Yield System that enables cut-shape suppliers to reclaim remnants for future use, saving them from landfills. Today, SYSPRO's green leadership is embodied in a very broad collection of capabilities inherent in the company's enterprise software solution. President Joey Benadretti re-emphasizes SYSPRO's commitment to environmental responsibility: "We believe that every company has a social responsibility not only to the regions in which it operates, but to the global community as well."
Transplace (www.transplace.com) uses proprietary technology called optimal carrier assignment, which allows it to search for SmartWay carriers as a carrier selection criterion (when multiple carrier choices are available) and automates the selection process. In addition to selecting SmartWay carriers, Transplace continually looks at opportunities to convert truck load freight to intermodal or rail providers. Furthermore, it tries to improve its current transportation network operations by employing its transportation management system (TMS) and proprietary Scenario Pro TechnologySM (SPT). These tools enable its customer base to consolidate orders into cost-effective, service-minded and environmentally conscious routings, mode selections and carrier assignments.
As part of its LEAN offering, Transportation Insight (www.transportationinsight.com) assesses clients to determine where to cut waste from their supply chains, such as eliminating expedited shipments, lowering energy usage, reducing packaging, improving communication and collaboration with transportation partners, optimizing transportation loads and modes, gaining control over inbound and outbound shipments, and more. After the assessment, Transportation Insight constructs a customized, comprehensive solution based on its Extended LEAN methodology that broadens the use of traditional lean principles to clients' value chains.
Tyco Retail Solutions' (www.tycoretailsolutions.com) environmental health and safety (EHS) program incorporates environmental initiatives into business practices across the organization. Environmentally friendly design and green manufacturing practices are top priorities for product management, engineering, sourcing and manufacturing teams. The company's electronic article surveillance (EAS) tags are made with 100 percent recyclable plastic, and designed with efficient power supplies and energy-saving configurations to maximize durability and usage. Tyco also introduced its source tagging recirculation program in 2011. This model allows hard tags to be applied at the source of manufacture, removed at the store, and then processed and returned for reapplication by garment manufacturers. It not only expedites the way merchandise reaches the sales floor from the distribution site, but integrates easily into a retailer's existing sustainability program.
UniCarriers Americas (www.unicarriersamericas.com), formerly Nissan Forklift, created programs designed to manage the environmental impact generated by corporate activities, customer use and the company's use of resources to a level that is all within nature's capacity to absorb. There are three main metrics used to calculate its success in executing green strategies: carbon dioxide in tons per unit, volatile organic compounds in pounds per unit and waste-to-landfill materials in pounds per unit. Since 2007, the company's carbon dioxide dropped 53.2 percent, based on year-to-date calculations through August 2013. Within that same time period, the facility produced 91.5 percent less waste, which is measured in pounds per unit, and achieved zero waste to landfill in October, ahead of its year-end goal.
Wolper Information Services (www.wolper.com) promotes multiple paperless options for its clients. Solutions include transitioning clients to online- and digital-only magazine, journal and newspaper subscriptions, electronic invoices and transactions designed to minimize or eliminate paper invoices and checks. For companies that are implementing or already using e-procurement systems, Wolper's help in e-processing can create a "no-touch" scenario in which files are automatically uploaded into their systems, and then automatically routed for approval and payment. One financial firm transitioned to 100 percent paperless invoicing and payments, saving more than 2,000 pages of paper annually. In total, the company successfully transitioned 48 percent of its clients to paperless invoicing and payments. Wolper has a rigorous recycling program in its office as well, including paper, cardboard, plastic, glass, aluminum, batteries and electronics. There even are composting bins in lunchrooms.
Companies in this article