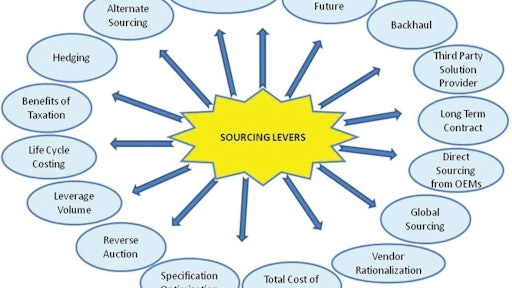 Every organization, big or small, needs to source Maintenance, Repair and Operation/Overhaul (MRO) items. In the present scenario when everyone is looking for cost-effective strategies, one of the key enablers is the effective sourcing strategy for MRO items which directly impact its bottom line.
While most companies have streamlined management of materials directly used in manufacturing, many have not fully addressed MRO management. In fact, only a handful of manufacturing companies are managing the sourcing of MRO parts effectively. And most companies don't have the range of expertise, information, and tools to effectively source all strategic and tactical buying categories. Additionally, many purchases never get sourced at all.
These often overlooked items, can significantly drive up costs and eat into profits. For the most cost-effective sourcing of MRO items, the focus should be on the entire supply chain and not just in one process.
Avoid missed opportunities
Large manufacturing companies depend on complex and costly machinery to manufacture products. The next frontier for optimizing processes of manufacturing industries is in managing MRO. MRO procurement for these companies involves sourcing and buying not only production consumables—such as lubricants, thinner, jute and fasteners—but also specialty items such as limit-switches, instrumentation spares, cables, and motors.
And while they have made great progress in improving efficiency and reducing cost in areas ranging from scheduling manufacturing equipment to inventory management, some still make the mistake in concentrating only on the sourcing aspect. They don't realize that a major chunk of MRO item cost gets lost in the 'faulty inventorization,' 'payment terms with the supplier' and 'negligence in addressing the continuous improvement activities in the value chain.'
Improper MRO management leads to either stock-out situation, accumulation of excessive inventory or leads to a situation where the organization fails to leverage the sourcing tools for cost reduction.
Apply the right sourcing levers for supply chain cost-reduction
Strategic sourcing is different from the traditional transaction structure in that it is basically value creation through knowledge creation, knowledge acquisition and knowledge transfer (see Figure 1) and believes that 90 percent of cost saving can be achieved through various methods of commodity aggregation, supplier aggregation and value engineering. But which commodity/item should given priority for the study and which strategy should be applied for which category of items are just two of the issues which cannot be generalized. Answers will vary from 'type of organization' to 'buy value' and 'the end use of the product.' Table 1 provides an overview of product portfolio matrix that can be used in a large manufacturing setup.
In strategic sourcing, which sourcing lever should be used for which item is situation dependent. These levers cannot be standardized according to the commodity but rather should be decided judiciously (Figure 2 shows some of those levers). Additionally, new sourcing levers can be created as and when situation arises.
Leverage Volume (Consolidation)—There are many commodities, which are similar in nature and can be procured throughout the organization. Consolidation of the entire buy offers a big volume to the suppliers and in turn a good volume discount can be expected. The combined specifications of different units might not be exactly same. The challenge is standardization and sharing the best practice of one division with the others. In the process of standardization the supplier base is also reduced. The emphasis is on offering entire volume to one (or few) capable supplier and get volume benefits.
Direct Sourcing from OEMs—The more the number of stakeholders in the value chain between manufacturer and supply manager, the more is the mark-up on the price. Keeping this in mind, the strategic sourcing personnel takes a conscious decision to buy the material directly from the manufactures. The major challenge is to convince the manufacturer to bypass its existing dealer/supplier network and continue getting the after sales service. It can become possible if the buy value is significant.
Third -party solution providers—An organization can outsource some of its sourcing activities (which are not core in nature) to third-party sourcing experts called integrators. The integrator acts on behalf of that organization and make sure of the optimality of the solution. Through this, it is possible to reduce overheads in the form of labor, time and related procurement expenses. Some of the areas which could be outsourced by a manufacturing organization include cleaning jobs; air conditioner maintenance; corporate travel; document delivery services; temporary staffing; and IT hardware maintenance.
Optimization of Specification—This is one of the most important sourcing levers with enormous saving potential. Every improvement in sigma level comes with a price tag, so the strategic sourcing personnel must see whether the specification that has been supplied is the required one or even a lower specification will serve the purpose. Specification data, collected during the internal and external analysis, is optimized using this lever. Various issues related to optimizing the cost with respect to specification is questioned here, if required various trails shall be conducted to arrive at best possible specifications.
Long Term Contract—Upon assurance of business for a loner period, the supplier can offer many value added services and discounts. The supplier gets time for doing value-engineering activity for reducing its cost and the same can be shared with the organization. A manufacturing organization prefers long-term contract for its core items like refractories, gas supply, lubricants, rolls and packaging. The selection of supplier, identification of key performance indices and management of contract are the key activity in long-term contracting. Some of the performance parameters that can be addressed through long term could be reduction in specific consumption of the material; standardization; reduction in rejection limits; free testing & inspection; and training to the employees.
Reverse Auction—It's a tool used in industrial business to business (B2B) procurement. It is a type of auction in which the role of the supply manager and supplier are reversed, with the primary objective to drive purchase prices downward. In an ordinary auction (also known as a forward auction), supply managers compete to obtain a good or service. In a reverse auction, suppliers compete to obtain business; and a supply manager contracts with a market maker to help make the necessary preparations to conduct the reverse auction. This could include finding new suppliers; training new and incumbent suppliers; organizing the auction; managing the auction event; and providing auction data to supply managers to facilitate decision making. Fundamentally, reverse auctions are zero-sum games—the supply manager' s savings is the supplier' s loss of revenue. It is a double edged sword in that it is a potent tool if applied with prior planning; but on the other hand, reverse auctions shall not be done sourcing of differentiated parts and components where suppliers have specialized capabilities and few suppliers can meet quality and reliability standards.
Total Cost of Ownership (TCO)—TCO is the actual price of any commodity, i.e., basic plus hidden costs. The hidden costs are not related to price but are related with yield, transportation, specification, production capacity and inventory-carrying costs. In most of the cases, hidden costs can run as high as 40 to 50 percent of the TCO. The strategic sourcing personnel quantify important elements—such as warehousing expenses, field failures, freight, cost of poor forecasting and power consumption—and develops a complete understanding of TCO. Based on this, a decision is taken so that price reduction in one area will not simply crop up price elsewhere.
Life Cycle Costing (LCC)—Life Cycle Costing is a process to determine the sum of all the costs associated with a commodity during its entire life which includes acquisition; installation; operation; maintenance; disposal; refurbishment; and any other costs directly attributable to owning or using the commodity. It therefore covers all aspects of a commodity.
Conversion—In the entire manufacturing cycle if one process is not cost-effective to the manufacturer (or it has any capacity constraint) then that particular process can be outsourced to a conversion agent. The manufacturer can give the raw material to the suppliers who in turn will convert it to next higher grade/component. This would occur when the manufacturer may have adequate raw material/production facility but does not have the adequate capacity to produce the same. The conversion agent gets a business assurance and also appropriate profit margin.
Commodity Futures—This is applicable to all components which have composition of non-ferrous metals. It is one of the important levers for de-risking the supply manager from the fluctuating market price. Through commodity future, market mediates between supply manager and the supplier of commodities. It becomes very important for metals like copper, aluminum, tin and zinc—whose prices do not only depend on demand-supply factors but also on mining, refining and corporate activities such as mergers and acquisitions and labor issues.
Free Deliver at Site—Many suppliers offers free delivery of material at the site from their manufacturing units provided they are given a certain consignment size. The souring personnel should try to negotiate for this and optimize this consignment size. This simple sourcing lever can eliminate the logistics cost.
Buy 'Solution'—With the increased competitiveness of the market, more and more supplier are offering "Total Solution" and supply manager are also willing to buy solution instead of the product. They offer customer-specific solutions by owning and solving the problem. This lever can be utilized if the strategic sourcing personnel is fully aware of the end-to-end process where the material is going to be used, and then only he can buy the solution instead of the product.
Backhaul—With increasing logistics cost, backhaul is a win-win leverage for the supplier as well as the manufacturer. When a mode of transportation is used to bring something to the manufacturing unit, the same transportation can be used to send something-else back to the supplier, e.g., lubricant drums can be sent back to the lubricant supplier.
Global Sourcing—'Looking beyond the boundaries' is the mantra for this sourcing lever. With technology bridging borders and enabling global commerce, the choice of suppliers today is truly worldwide. Chief Procurement Officers (CPOs) are taking advantage and seeking out viable suppliers in low-cost jurisdictions that can offer comparable quality and better price points.
Alternate Sourcing—With this sourcing lever, even if you are satisfied with your present supplier, always keep a look-out for the alternate supplier, alternate location and also the alternate brand.
Benefits of Taxation—In those countries where multiple taxation exists (e.g. in India VAT and CST), sourcing personnel should always try to leverage the one which is most beneficial. In case of import orders, Hi-sea sales option can be considered to nullify the impact of CST.
Leverage Seasonal Buy—Price of some commodity shows cyclic pattern throughout the year. For those items it is better to buy when the prices are at trough rather than at the peak of the cycle. For some commodities, supplier give season end discount; a good sourcing personnel should always look for such opportunities.
Leverage Technology—Companies can build competitive advantage over its competitors by adopting best-of-breed solutions to fill selected gaps, integrating them with legacy systems and with suppliers, customers to enable end-to-end processes and to provide good visibility of the pipeline. IT-enabled supply management tools and new technologies like RFID, global tracking system, e-procurement and bar coding delivers the business value as well as complete visibility of the value chain through process optimization, cost reduction, inventory reduction, resource optimization, time compression and better planning and scheduling.
Continuous improvement
One key to success for strategic sourcing activities in any organization is its effectiveness in addressing continuous improvement activities. Any of the levers mentioned earlier cannot be considered to be one time (final) activity. The organization must decide the KPIs for each stage of its supply management process and everyone involved in it should be encouraged to get involved in bringing excellence in those KPIs. Organizations should facilitate in training its employees in Six Sigma tools so that they can take up continuous improvement projects. Given a particular problem, the tools and techniques the Six Sigma problem-solving process provides are obviously effective given the success attributed to it by its proponents. Starting with roots in statistical process control and with tools that come out of its precursor, Six Sigma adds a focus on bottom line impact that makes it worth the attention of top management—a necessary condition for effective improvement efforts.
Strategic sourcing should have a holistic approach into the entire value chain of supply management of MRO items, and then only actual benefits can be reaped.
Kunal Kant, Sourcing & Procurement, Infosys Ltd., Bangalore, India